Learn From The Pros: Install A Fender Eliminator Kit
Chaparral Motorsports
|
May 11, 2011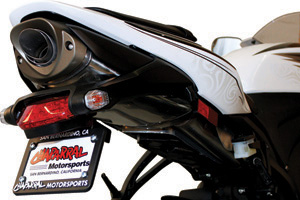 Nobody (not even the manufacturers!) likes these stock fenders. They're a regulatory burden on design and style. And they're their law - at least for them. You don't need to retain all that plastic.

We worked on a 2011 Honda CBR600RR for this project, using the Competition Werkes Standard Fender Eliminator. For this bike, Competition Werkes also offers a Limited Fender Eliminator kit. The LTD kit doesn't remove more fender; it simply tucks the license plate deeper below the seat on a pivot mount, and then requires a new license plate light. The actual installation steps vary a bit bike-to-bike, but the process is similar.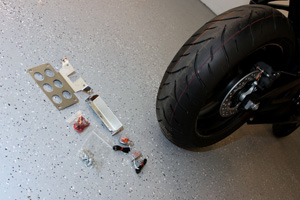 The Kit
It's not all "elimination," of course. The Fender Eliminator Kit from Competition Werkes does remove plastic appendages and turn signal mounts, but you'll add a few stainless steel pieces, too. To secure the new lights and re-attach your license plate, this small amount of lightweight stainless steel is needed.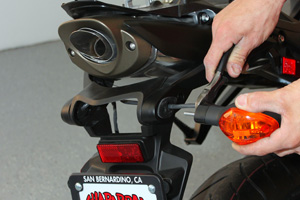 1. Light Prep and Removal
Unplug the taillight wiring; you'll simply plug it in again later. You'll also prep the turn signals for removal by inspecting how much wire you have available. Cut close to the turn signal so you have plenty of wiring for installation of new blinkers. From here, just a couple small bolts hold the old fender in place. Remove those, and you've eliminated the unwanted fender.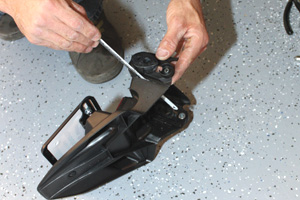 2. Cut it Off
Using a hacksaw blade, cut the plastic fender just below where the taillight slips into place. Cut carefully, and use a rasp file to polish up your work if necessary. This step is most likely unique to this Honda. On many other sportbikes, the Competition Werkes kit eliminates the plastic fender completely, replacing it with the stainless brackets that hold a license plate and turn signals (if necessary).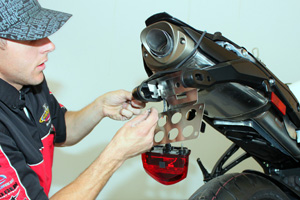 3. New Bracket
Your hacksaw work left you with a small plastic taillight mount piece; pop that back into place as shown, with the new license-plate and support brackets shown. The taillight wiring runs through a hole in this bracket and plugs into the light easily.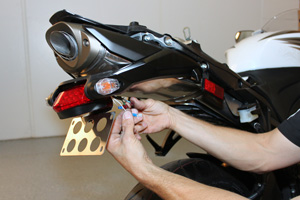 4. New Turn Signals
The new turn signals are much smaller and are flush mounted to the motorcycle with adhesive tape included - no hardware here. Then you connect the new signal wires to the bike's wiring using electrical connectors provided. With this wiring, make sure the connectors are installed securely to the wiring using the proper wiring tools.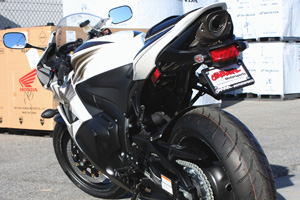 5. Complete
Ensure all hardware is tight, and that wiring connections are secure. With this bike's undertail exhaust, we paid particular attention to neatly and safely routing wiring for the signals and taillight. Now install your license plate (and cool Chaparral license plate frame). Finally, test and make sure your taillight and turn signals work properly, then you're good to go! Looks much better, right?


To see the this tech tip video on installing a new gas tank, click here.