Refresh Your MX Bike
Chaparral Motorsports
|
May 10, 2011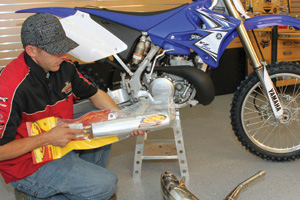 Do you miss that "new bike smell"? It's easy to get it back. We're going to show you how to make your bike look as good as new - though we can't guarantee it will smell any better.

Read along as we install a new graphics kit and a complete exhaust system. Why did we choose this mix of parts? The FMF exhaust system delivers impressive gains, especially on a two-stroke YZ250. And the sticker kit makes the bike look as good as new, actually better. Together, they provide a great combination of fresh looks and performance gains.

FMF Exhaust
Call us old-school, but we still love two-stroke MX bikes. When you add the right exhaust pipe and silencer combination - like the FMF Gnarly pipe and Turbinecore 2 silencer - to a two-stroke like this YZ250, good things happen.

The Gnarly pipe is designed to boost the YZ's low-end performance, adding torque like a four-stroke. Plus, it's made of 18-gauge steel so it's plenty durable. The Turbinecore 2 silencer is FMF's most popular. For MX and trail riders, this silencer delivers broad improvements in airflow, and it's still a U.S. Forest Service-approved spark arrestor. It has a stainless-steel endcap that makes it as durable as the Gnarly pipe.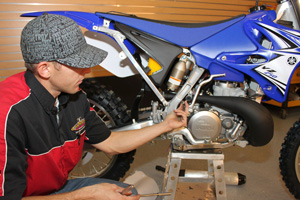 The installation is simple with a few wrenches and a spring puller. Start by removing the rear number plate so you can access the silencer mounting bolts. Now go back to the exhaust pipe springs at the front of the engine; pulling them off now can ease the whole process.

When you disconnect the silencer mounting bolts, make sure you keep track of all hardware and rubber bushings; you'll reuse them. Carefully wiggle the silencer free from its connection to the exhaust pipe - a spray of WD-40 may help. From the stock pipe, remove the coupler where it meets the silencer, you'll reuse this stock piece, too.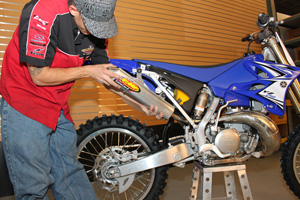 The new Gnarly pipe installs easily; just fit the pipe into place and re-attach the two pipe springs. Just a couple bolts secure the pipe to the frame; attach it loosely for now. With the stock coupler attached to the pipe, apply a bead of high-temp silicon to the silencer end, and carefully connect the two new pieces. To mount the silencer, you need the rubber bushings from the stock part. They're tough to remove, but will pop out with some effort. Now use the stock hardware to mount the silencer in place. With everything fitting well, you can tighten all mounting bolts. You may need to re-jet the carburetor for optimum performance, and FMF has compatible kits
to help.

To see the this tech tip video on installing FMF 2-stroke exhausts, click here.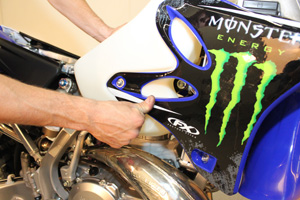 Factory Effex Graphics Kit
You may not be a motocross racer, but why not look like one? Actually, it's not about posing as a racer. A new graphics kit can make your old bike look like new again, and it can customize the bike to look exactly as you want. Plus, the graphics simply wear out after a season, especially if you wear knees braces that add extra abrasion impact on your bike's plastic and graphics.

Dozens of kits are available for every MX bike made. We chose the Factory Effex "Monster Energy" kit; you can choose a racer replica model or another kit from the company's huge lineup. We like that these kits use 3M adhesive on thick sheets of sticker stock, they're durable as well as eye-catching.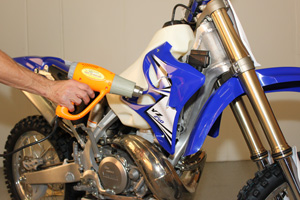 First, prep your bike's plastic by removing old stickers and thoroughly cleaning the surfaces. The new graphics kit will adhere best to incredibly clean plastic. We like the Spectro XL-1 Motorcycle Wash. It cleans well and rinses off completely, that's important here. You need to remove all old sticker residue, visible and invisible. Sometimes a heatgun helps loosen up stickers that won't let go.

Now prep the new sticker kit. Before removing any sticker backing, make sure you know exactly where each sticker will go, and how you'll place it. You can add positioning marks with a Sharpie marker, as long as new stickers will hide your marks. Because part of our kit will go over an aftermarket fuel tank, we want to make sure those pieces fit as they would on the stock tank.

One last thing before applying stickers: Wash your hands and minimize dust and dirt in the area. It's very annoying when dirt gets between your new graphics and the plastic. Applying these stickers can be the easy part if you've done all this prep work well.

You'll get all sorts of recommendations on how best to apply these graphics pieces. "Spray the adhesive back with Windex or water first," say some people. We applied our Factory Effex kit straight-up, no additives. Simply take your time and you won't need the extra assistance, especially if you test-fit each sticker earlier.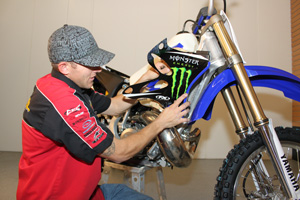 Work slowly on each piece, applying enough pressure to ensure no air bubbles remain under the sticker. If bubbles do appear, simply pull back to release the air and re-apply. And if it's still bubbled when you're done, you can press the air bubbles to the outside edges to release them. As a last resort, make a tiny cut with a razor to kill
air bubbles.

We had to make just one modification when applying the stickers to our aftermarket fuel tank. Where the tank was recessed to accept kick starter, we cut away a small piece of the graphic that wouldn't adhere well.

Graphics on gas tanks are tricky. This kit has perforated stickers covering the tank; that should prevent the fuel inside from causing stickers here to bubble.

To see the this tech tip video on installing a graphics kit, click here.