Voyage-Air Guitar Is Motorcycle-Friendly
Chaparral Motorsports
|
May 5, 2011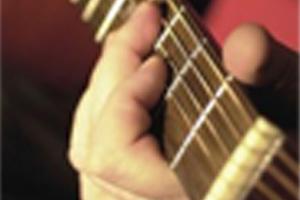 If most motorcycle riders want to show off their shredding skills at a rally, they typically have to settle for air guitar, as it's difficult to transport an instrument on a bike without it getting damaged.

That's where the new Voyage-Air Guitar comes into play. This model is specifically designed for motorcycle riders and comes with a handy carrying case for easy transport. The key to the guitar's portability is the foldable neck, which allows the instrument to easily fit inside the square case.

According to the manufacturer, the case is stable at speeds of up to 100 miles per hour on the bike. There's also room for extra accessories like strings, sheet music or even a laptop. If you're flying instead of riding, the carry-on case is designed to fit inside overhead bins as well.

Despite the guitar's convenience, audio quality isn't compromised - the instrument is highly-regarded by professionals. Rusty Anderson of Paul McCartney's backing band even played the Voyage-Air onstage during a recent tour.

The Voyage-Air is available in either acoustic or electric versions, and retails for $399. It certainly looks like an elegant solution for rockers who want to jam on the go.