May Is National Motorcycle Safety Awareness Month
Chaparral Motorsports
|
May 5, 2011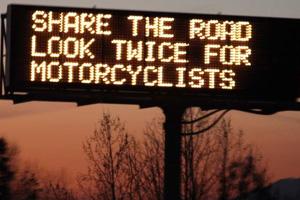 May is National Motorcycle Safety Awareness Month, so it's a great time for riders to remember some of the key safety tips for riding that could end up saving the life of themselves or another motorist.

The theme for this year's Safety Awareness Month is "share the road," serving to remind motorcyclists and drivers of cars about the importance of respecting others on the road. While the National Highway Traffic Safety Administration is responsible for the nationwide initiative, much of the work is falling to state-level transportation authorities to send out friendly reminders.

For example, the California Highway Patrol is encouraging riders to sign up for the California Motorcyclist Safety Program, which offers courses and other resources for riders looking to improve their road safety.

"The drop in overall number of collisions is encouraging, but there is more work to be done," said CHP Commissioner Joe Farrow. "All motorists are reminded to be extra alert when on the road to help keep everyone safe."

While some states don't require it, May would be a great time to pick up a motorcycle helmet if you don't already own one. Helmets have been proven to save lives while out on the road and even if your state doesn't have a law on the books, they're well worth a purchase.