2011 Salt Lake City AMA Supercross Results
Chaparral Motorsports
|
May 3, 2011
2011 AMA / FIM World Championship Supercross series round 16, Salt Lake City, Utah race results/recap: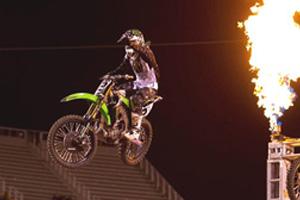 Villopoto Extends Lead in Utah

Ryan Villopoto was able to extend his AMA Supercross championship lead in Utah, putting him in prime position to walk home with the trophy when all is said and done.

Initially, it looked like James Stewart might be able to put together a dream win and set up an interesting showdown for the final in Las Vegas. Stewart grabbed the holeshot and was well out in front when the mental errors that have seemed to plague the rider all season struck again. Going into a turn just before a whoops section, Stewart slid off the track and fell down. He recovered quickly, only to fall again a few seconds later.

That meant Stewart would have to head to the pit and get his front tire realigned before he could rejoin the race. Once he had, he was all the way back in fifteenth. Some valiant riding got him back to tenth, but the mistake all but ended Stewart's championship aspirations.

Instead, it was Villopoto taking the win, as the Kawasaki rider capitalized on Stewart's mistake and held off Chad Reed, who finished second. Villopoto now holds a nine-point cushion over Reed, and only needs a top-five finish in Vegas to guarantee himself the championship. Ryan Dungey has an outside chance as well, as his third place finish means he sits three behind Reed - although he'll certainly need some excellent riding and a bit of luck to make a repeat championship happen.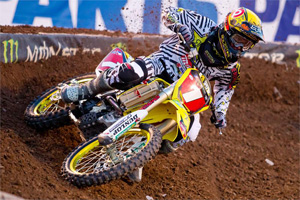 Dungey Podiums at Salt Lake City

Team Rockstar Makita Suzuki's Ryan Dungey charged through the pack to take third place in Saturday night's AMA/ FIM World Supercross Championship round in Salt Lake City.


The defending Champion and his RM-Z250 had a lot of ground to make up at the start of the 20-lap Main Event at Rice Eccles Stadium behind race leader James Stewart, Chad Reed and Davi Millsaps, but raced back from a several-seconds deficit to finish on Reed's back wheel at the flag.


Dungey is now 12 points behind series leader Ryan Villopoto and three behind second-placed Chad Reed with the final 17th round taking place at Sam Boyd Stadium in Las Vegas next weekend, May 7th.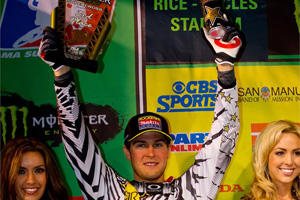 The conditions were tough in Salt Lake, with snow flurries through the morning and cold temperatures throughout the day, but Dungey and his RM-Z adapted well and were strong for the duration. After scoring the third fastest time in the shortened afternoon practice, Dungey had a solid ride in his heat race, scoring a second-place finish. In the Main, after a fifth-place start, the Rockstar Makita Suzuki rider quickly moved to fourth and was able to pick up third on lap eight. Then the reigning Champion and his RM-Z450 laid down a strong and consistent 12 more laps to claim a third-place podium finish.


"It was a pretty good weekend," said Dungey. "We made a lot of changes to my RM-Z to adapt to the conditions here in Salt Lake. My Rockstar Makita Suzuki team did a good job finding areas we could improve. I had a pretty good heat race and got out to a pretty decent start in the Main and just started to put in laps. I felt good, but I just wasn't matching the lap times and was losing a lot of ground. Overall, we did the best we could and we just have to put this away and learn from it and look forward to Vegas next weekend and try to go for a win. I like Vegas. It's a little more slippery and takes good throttle control; I've done pretty well there."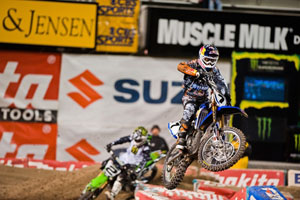 Stewart 10th at Salt Lake SX

After strong performances and back-to-back victories in the previous two rounds of the AMA Supecross series former champion James Stewart was edged out of this year's epic title chase as two falls saw the Floridian finish 10th in the Rice-Eccles Stadium in Salt Lake City. 


Juts over 39,000 spectators witnessed Stewart grab the holeshot on his YZ450F and lead almost half of the main event until losing traction with his front wheel and crashing in a turn. He remounted quickly but then suffered another spill through the whoops that forced him briefly into the pits to straighten out his motorcycle before re-joining the race. 


Unfortunately the result pretty much ends Stewart's aspirations of a late title surge as he stands 23 points behind leader and Salt Lake City winner Ryan Villopoto in the championship with one round remaining and just 25 points left to grab. 


"Things didn't go to plan," he said after the race. "I had the lead and then washed the front end out and then went over the handlebars in the whoops. It has just been that kind of season. I want to thank all my sponsors for everything. It has been an up-and-down season but we will continue to try and get better. I'm pretty bummed out right now but we are walking out of here healthy and will try to get a win next week in Vegas." 


Stewart was one of six Yamahas to classify in the top twelve. The highest-ranking YZ450F runner was Davi Millsaps in fifth place. Thomas Hahn was eighth in front of Justin Brayton, Stewart then Nick Wey and Kyle Regal. 


The seventeenth and final event of the Indoor campaign will occur at the Sam Boyd Stadium in Las Vegas this coming Saturday.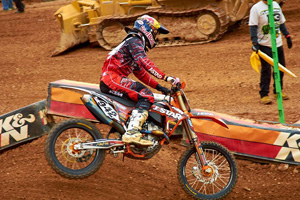 JDR/J-Star/KTM Race Report - Salt Lake City Supercross

JDR/J-Star/KTM Team rider Tye Simmonds came up just short of qualifying for the Salt Lake City Supercross main event after a hard night at the sixteenth round of the AMA Supercross Series.


Simmonds was feeling pretty good as the riders lined up for the heat in what was their coldest race of the year. The practice schedule was shuffled around in the early afternoon to allow the snow that had fallen on the course a chance to dry. He started decent in the heat but got t-boned early on. The incident crushed his exhaust and he had to pull off and was unable to finish the heat.


He was given last gate pick in the Supercross LCQ because of his heat race DNF. He tried as hard as he could to get a start from the gate he was given but came around the first corner near last. He spent the six lap race trying to catch the top two riders in order to get a final transfer spot to the main event. By the end of the race, he had climbed up to 5th place just three positions shy of qualifying.


"I have had some bad luck the past few weekends and am really bummed to not make it in the main event here at Salt Lake City. Hopefully my luck will change when we go to Las Vegas next weekend. I'd really like to have my best finish at that round," remarked Simmonds.


Simmonds teammate, PJ Larsen, who was injured at the Houston Supercross earlier this year, has received good news from his doctors. His cast was removed over the weekend and he should be back to riding within the next week to judge when he can return to racing action.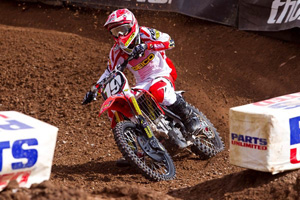 Hansen Crashes, Tomac Wins in Utah

Heading into the penultimate race of the AMA Supercross Lites West season, Josh Hansen needed to make a big move if he was gonna keep his championship hopes alive. Unfortunately, a miscalculation has all but ended the rider's season.

Hansen went into the race down just two points to leader Broc Tickle in the standings, so beating Tickle would ensure that Hansen ended up with the lead. Hansen got out to an early lead that was quickly usurped by Eli Tomac, who was third overall in the standings going into the race.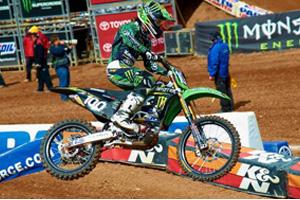 That's when Hansen got desperate, attempting a tricky maneuver to get past Tomac on a turn. Yet Hansen only ended up crashing and giving Tomac even more of a lead. Even worse, Hansen was stuck under his bike as the rest of the field passed him by. The Kawasaki rider ended up in thirteenth place, which almost assuredly ended his championship dreams.

Tomac was able to hold on for the win and essentially swapped places with Hansen in the point standings. After Tickle finished third, now only two points separates the riders going into the final. With Hansen out of the picture, the final has essentially become a two-man race: whichever rider finishes higher will end up with the trophy.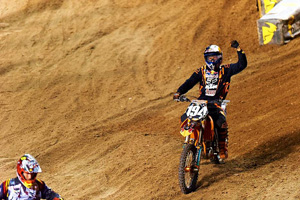 Roczen Earns 2nd at Salt Lake City Supercross

Red Bull/KTM's German sensation, Ken Roczen, earned his career best Supercross Lites finish and his second podium of the season with a 2nd place result at the penultimate round of the West Supercross Lites Series held in Salt Lake City, UT.


Roczen, who celebrated his seventeenth birthday the day before the race, collected the best gift he could hope for - a season best finish. Roczen started the day well turning lap times within the top five in practice which led to a great gate pick in his heat.


When the gate dropped for the first Lites heat it was Roczen's orange machine at the front of the pack. After pulling the holeshot, Roczen was passed by Tomac and dropped to 2nd. "I made a few mistakes in the heat race. I was still trying to adjust to the track and was glad to take away 2nd," remarked Roczen.


In the main event, Roczen got off to another decent start rounding the first corner in 6th position. Josh Hansen fell while attempting a block pass on Eli Tomac and handed Roczen 5th position. Still on the opening lap, Roczen passed Broc Tickle and moved into 4th. He spent the next half of the race working his way into 2nd. Once in 2nd position, he held tight and fought his way to earn the runner-up spot on the podium.


"I am very excited to top my best finish in my first race back," stated Roczen. "The time change is always difficult for me when I come back from Europe and I felt a little tired tonight and was glad to put a decent race together with such short time back in the U.S."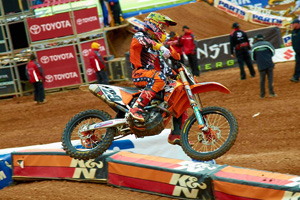 Roczen wasn't the only Red Bull/KTM rider to put in a decent night. His Supercross teammate Andrew Short had a great night finishing 4th overall. Short looked solid from the first practice all the way to the final checkered flag.


Short started the main event in 8th place and worked his way up throughout the twenty lap main. He never gave up a position, only took them away from others as he climbed his way through the pack. By the end of the race Short had moved into a remarkable 4th place position.


"The past two weeks we have seen tremendous improvement in Short's riding. He has stepped up his practice times and remained consistent in the races. We are very proud of the progress he has made - he earned every position tonight," commented Red Bull/KTM Team Coordinator Casey Lytle.


Next Event: Las Vegas, NV - May 7, 2011

Supercross Class Results

1. Ryan Villopoto

2. Chad Reed

3. Ryan Dungey

4. Andrew Short

5. David D Millsaps

6. Kevin Windham

7. Jake Weimer

8. Thomas Hahn

9. Justin Brayton

10. James Stewart

11. Nicholas Wey

12. Kyle Regal

13. Michael Byrne

14. Chris Blose

15. Tyler Bowers

16. Jason Thomas

17. Robert Kiniry

18. Cole Siebler

19. Ben Lamay

20. Mike Alessi

Supercross Class Lites Results

1. Eli Tomac

2. Ken Roczen

3. Broc Tickle

4. Cole Seely

5. Kyle Cunningham

6. Tyla Rattray

7. Ryan Morais

8. Martin Davalos

9. Travis Baker

10. Ben Evans

11. Tommy Weeck

12. Jake Canada

13. Josh Hansen

14. Topher Ingalls

15. Bruce Rutherford

16. Casey Hinson

17. Donald Vawser

18. Landen Powell

19. Tevin Tapia

20. Nick Paluzzi

Overall Supercross Class Point Standings

1. Ryan Villopoto 318

2. Chad Reed 309

3. Ryan Dungey 306

4. James Stewart 295

5. Trey Canard 255

6. Andrew Short 214

7. Kevin Windham 202

8. David D Millsaps 172

9. Justin Brayton 153

10. Nicholas Wey 139

11. Ivan Tedesco 134

12. Mike Alessi 114

13. Brett Metcalfe 107

14. Kyle Regal 95

15. Chris Blose 94

16. Michael Byrne 67

17. Thomas Hahn 66

18. Fabien Izoird 63

19. Austin Stroupe 55

20. Matt Boni 48

Overall Supercross Lites Class Point Standings

1. Broc Tickle 165

2. Eli Tomac 163

3. Josh Hansen 151

4. Cole Seely 131

5. Ryan Morais 124

6. Tyla Rattray 111

7. Ken Roczen 105

8. Kyle Cunningham 105

9. Martin Davalos 95

10. Ben Evans 68

11. James Decotis 67

12. Travis Baker 61

13. Nick Paluzzi 54

14. Antonio Balbi 50

15. Ryan Marmont 48

16. Bruce Rutherford 44

17. Jake Canada 38

18. Casey Hinson 26

19. Tommy Weeck 24

20.Gared Steinke 21