Laughlin River Run Set To Kick Off 29th Annual Rally
Chaparral Motorsports
|
April 28, 2011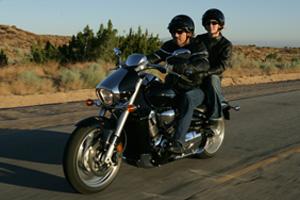 Escaping the lights of Las Vegas, Don Laughlin decided to build his casino out in the middle of the Mojave Desert, close to the Colorado River and the Nevada/Arizona border. The casino's still around, but the area is now perhaps better known as the annual site of the Laughlin's River Run motorcycle rally, which is celebrating its 29th year this coming weekend.

The Associated Press reports that 30,000 bikers are expected to attend, which runs from April 27th through May 1st. There's all sorts of entertainment, organized rides, poker games and more planned for the weekend, and all the major vendors are expected to be there with the latest motorcycle accessories.

One aspect of the rally that's always highly-anticipated is the concert series, and this year's lineup looks to be just as good as ever. Cheech and Chong will be entertaining the masses on Friday night, while Bachman and Turner highlight Saturday. There will also be some awesome cover bands lined up throughout the weekend, like Led Zepagain and Fortunate Son (Creedence Clearwater Revival). Plus, Thursday through Saturday will feature a "Battle of the Bands" for the first time ever, with $30,000 up for grabs.