Find The Perfect Side By Side
Chaparral Motorsports
|
April 28, 2011
The ATV market is wide and diverse, but one of the styles that is often overlooked by many riders is the side by side. These vehicles may not be what drivers immediately think of when they picture an ATV, but they can certainly be worth the investment in many cases.

Although their base is somewhat similar to other ATVs, side by sides are very distinct vehicles. They get their name from the bench seating that allows two people to ride in them, side by side. These models are also sometimes known as MUVs (multi utility vehicles). For those who have never seen a side by side before, picture a golf cart with the undercarriage of an ATV and you're pretty much there.

What's great about these vehicles is that they're useful in many different applications. Like much of the rest of the ATV market, a large number of side by sides are used by professionals for work. These vehicles excel at transporting people and supplies across a worksite quickly and easily. For those with a large workforce, purchasing side by sides can be more cost-effective than getting several ATVs to be shared.

Common Side By Side Features
Despite their many practical uses, side by sides are also increasingly being used for recreational purposes. Side by sides are designed to handle all types of terrain, so the transition from an ATV isn't very difficult.
Many of these vehicles also come with a small bed in the back, much like a pickup truck. These platforms can be perfect for hauling supplies that utility ATVs just can't handle. Side by sides can also be used for towing heavy objects.

Despite their many practical uses, side by sides are also increasingly being used for recreational purposes. Side by sides are designed to handle all types of terrain, so the transition from an ATV isn't very difficult. Whether you plan on adventuring with your spouse, child or friend, side by sides are a great way to ensure that everyone has a great time.

The side by side's styling makes it a great choice for beginners and first-time riders as well. There's virtually no learning curve for using these machines - if you've ever driven, you can likely pilot a side by side pretty efficiently. And passengers who might otherwise be intimidated at the prospect of hanging onto the back of an ATV likely won't have a problem riding shotgun in a side by side.

That being said, those who are planning to go off-roading should still exercise caution. The vehicles are quite sturdy, but not invincible. Excessive speeds and irresponsible handling can cause them to tip, and hitting uneven terrain can definitely jostle the passengers inside. To play it safe, drivers can invest in ATV helmets. It's worth noting that nearly all of these vehicles are equipped with a roll-over protection system, commonly referred to as ROPS.

So now that you know what to expect out of a side by side, what are some of the best models to fit the type? As you've probably noticed by now, classifying a side by side as just one "type" can be tricky - some are built for work, some for play and some for a bit of both. Here we'll profile some of the models that we consider to be the best at what they do - whatever that may be.

Honda Big Red MUV700
[caption id="" align="alignright" width="300"]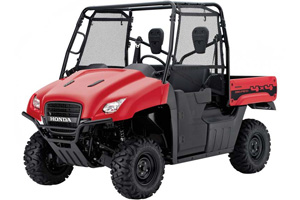 2011 Honda Big Red[/caption]

Honda is a longtime manufacturer of ATVs and motorcycles, but has only recently got into the side by side game. When they finally did decide to enter the market, they did so in an impressive way with the Big Red, also known as the MUV700. This model's tagline is "built to work," and that's evident from the features Honda has added.

The Big Red features an extensive cargo bed that can easily fit most anything you can throw at it, but if your payload does end up being too large, this machine's got the towing capacity to get the job done anyways. A recent addition to the 2011 version of the Big Red are Maxxis Big Horn tires, which are designed to handle nearly any terrain.

Combine all of this with excellent safety features, a 675cc engine and an automotive-style automatic transmission and it's easy to see why the side by side community has welcomed the Big Red with open arms. It's probably not the best choice for recreational users, but those who want to do some serious work will find few flaws in the Big Red. The model retails for $11,700.

Yamaha Rhino 700 FI
[caption id="" align="alignright" width="300"]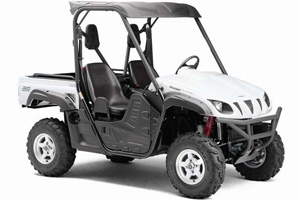 2011 Yamaha Rhino 700 FI Sport Edition[/caption]

Built in a similar vein to the Big Red is the Yamaha Rhino 700 FI Sport Edition. This model also features a flat cargo bed and is designed more for work than pleasure. There are quite a few differences from the Big Red, however. For starters, the Rhino features adjustable shocks, for those who feel like they need a little less or more give when they're off-roading. There's a protective sun roof as a standard feature, keeping things cool for those who plan on working during the day.

The flat bed reportedly handles up to 400 pounds of cargo, with a towing capacity of 1,200. The Rhino is powered by a 686cc liquid-cooled four-stroke engine. The extra features and slightly bigger engine bump it up in price above the Big Red, as the MSRP for this model is $13,400.

Polaris RZR XP 900 and RZR 4 800 EPS
[caption id="" align="alignright" width="300"]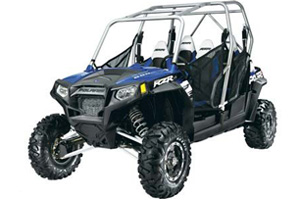 2011 Polaris Ranger RZP 4 800 EPS[/caption]

That covers two of the better work-oriented side by sides, but what about those who want to use their vehicle for recreation? The Polaris RZR XP 900 has you covered. Performance is what's on display here, and the Ranger RZR has it in spades. Powered by a liquid-cooled 875cc V-Twin four-stroke engine, there's little that will stand in your way. Big shocks and a 13-inch ground clearance ensure that riders will be comfortable as they explore the great outdoors.

Perhaps the best feature, however, is the on-demand true all-wheel drive, which can help you get to areas that you might not have thought possible initially. The cockpit is mainly open-air, although the roll cage coupled with the ROPS ensures that drivers and their passengers will be safe. Polaris prices the model at $16,000.

A variant of this model is the Polaris Ranger RZP 4 800 EPS. This model is notable as being the world's first sport four-seater side by side. With seating for four people, this is the unquestionable choice if you're looking to ride with more than two people. The engine is a downgrade from the XP 900, but luckily, so is the price - you'll only pay $15,700 for this one.

Can-Am Commander 1000
[caption id="" align="alignright" width="300"]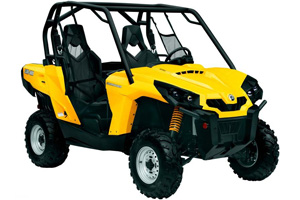 2011 Can-Am Commander 1000[/caption]

Finally, there's the Can-Am Commander 1000. We hesitate to put the Commander in a guide about side by sides, as it's built more like a tank. This vehicle's 976cc liquid-cooled engine produces a whopping 85 horsepower, making it the most powerful sport side by side that money can by. Can-Am also claims that the model leads its market segment in fuel economy.

Nobody would describe this vehicle as light on its feet - it weighs nearly 1,300 pounds. And while the Polaris is more about riding high and over everything, traveling in the Commander is more about simply plowing through anything in your path. But for the reasonable price over $14,300, it'll be the immediate choice for many recreational riders.