Soft Luggage - Let The Bike Do The Work
Chaparral Motorsports
|
April 27, 2011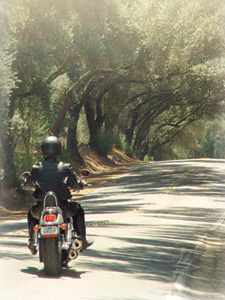 For me, every motorcycle ride is an opportunity. For a great photo. Or a good meal. Or a to-do list hardware store run. That means I'm either carrying something with me (a camera, wallet, map), or bringing something home (box of nails, half a burrito). Maybe both.

I could wear a motorcycle backpack, but I'd much rather let the motorcycle carry this stuff. Tank or tail mounted soft luggage is the easiest way. It's lightweight and affordable - no need for the mounting hardware required of hard luggage. And some bags double as backpacks or shoulder bags for easy portability.

Here is a variety of my favorites to show you what's available. Prices and sizes vary widely in this category.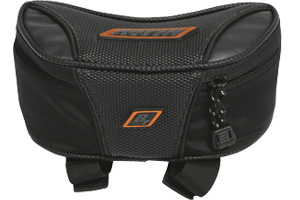 [mageProductLink sku="225-659-5010" title=""]Rapid Transit Swat 833 Triple Tree Bag[/mageProductLink]
This small bag mounts on your sport bike's triple tree, most sport bikes anyway. And yes, it's small. The Rapid Transit bag will carry your wallet, mobile phone, sunglasses, and not much else. The bag mounts easily using hook & loop straps, and the interior uses a microfiber liner to baby special items inside.

When positioned, the bag will not interfere with a rider's view of the gauges. It will fit Suzuki, Kawasaki and some Honda sportbikes. On some Yamaha models, the ignition interferes with mounting this bag.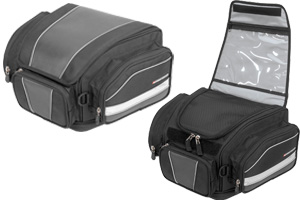 [mageProductLink sku="310-7272" title=""]Firstgear Laguna Tail Bag[/mageProductLink]
Tank bag or tail bag? If you want to keep your eye on the bag always, go tank bag. Or do you want a bag that's out of sight, and can't possibly scratch your bike's gas tank?

If you'd rather store your carry-on behind you, the Laguna Tail Bag from Firstgear is a nice mid-size carrier. The bag is made of a PVC-coated nylon for durability. And it's expandable vertically, giving you an additional three inches of space all around. Inside is a soft liner, as well as a movable divider to keep items in their place.

The base of the bag is small enough to mount on a variety of bikes, and it attaches easily to a wide variety of bikes using bungee straps. A matching tank bag also available.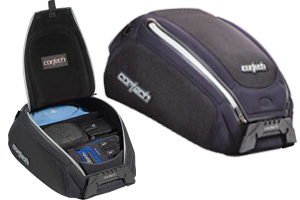 [mageProductLink sku="03-8235-2305-04" title=""]Cortech Dryver Tank Bag[/mageProductLink]
This unique bag mounts with a "gas-cap ring" attachment - no straps or magnets - that securely holds the bag an inch or two above your bike's gas tank, no worries about slipping or scratches on your bike. This base is also adjustable fore and aft to suit different bikes and riders.

The Dryver bag features a waterproof 600 denier nylon construction. It has many of the great features of other Cortech bags, like internal organizers, durable zippers with big pulls, and handles for easy carrying.

Add-ons make the Dryver bag even better. You can add a removable map pocket or a small top-mounted organizer bag for your phone, iPod or other small items. You can even attach a matching GPS holder that places the GPS in perfect viewing position and protects it from the elements.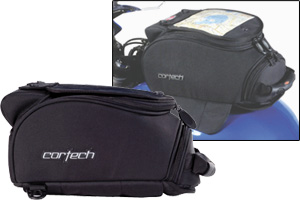 [mageProductLink sku="03-82340" title=""]Cortech Super 10-liter Bag[/mageProductLink]
This tank bag is available in magnetic or strap mount attachment. The magnet-style is popular, but make sure every bike you mount it on has a metal tank. Some sport bikes now feature lightweight plastic covers over the tank, not ideal for a magnet tank bag.

This is the multi-tool of tank bags. It has a small compartment just for sunglasses. The clear map panel is easily removable. The zipper pulls are easy to use even wearing gloves. An organizer inside the main flap holds pens, special documents, and other small items. And it comes with a rain cover, as do most Cortech bags.

The base is a soft material that won't scratch your bike. Backpack straps hide away inside and are easy to access when needed. There is even a special hole for use with a hydration pack's water tube. Measuring just about five inches tall, the bag still allows you to tuck in low on your sport bike. The bag is also available in 14-liter and 18-liter sizes.

Your soft luggage options are many, including even more tank bags as well as matching tail bags and soft saddlebags as well. Add as much soft luggage as you like, and turn your trip to the hardware store into a long weekend on the road.