Injured Honda Team Shows Up Anyways
Chaparral Motorsports
|
April 27, 2011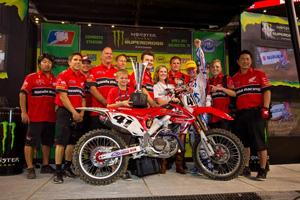 Honda's AMA Supercross factory team has had some hard times this season, as its rider Josh Grant went down to injury early on. Grant was followed later by Trey Canard, and with both out until the end of the season, Honda finds itself without a rider for the remaining races.

That's why many were surprised when the Honda team showed up in Seattle last week for the race. They still didn't have a rider, but rather than stay home, Honda decided to give back to the fans. The group opened up the pit area and allowed spectators to come down, check out the bikes and chat with team members.

"Things aren't quite as time-constrained for us now, so we're allowing people to come in and touch the bikes, sit on them, maybe take a picture with a full-factory bike," Honda team manager Eric Kehoe told Cycle News. "I know if I was 12 years old, I'd love to come in and sit on Trey Canard's bike."

Kehoe went on to say that the team was likely done in terms of competing for the Supercross series, which has just two races left. However, the team manager says that the manufacturer is looking to find a replacement for the start of the AMA Motocross Nationals series, which Canard and Grant are unlikely to be back for. In their place, fan favorite Kevin Windham may end up riding a few races under the official Honda banner while the riders recuperate.