Bike Night - Summertime Is Showtime
Chaparral Motorsports
|
April 27, 2011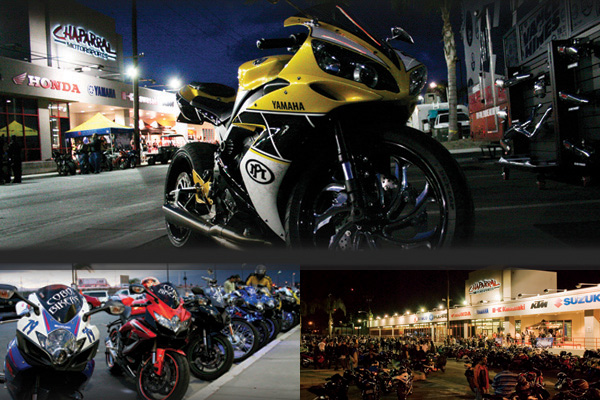 Summertime is showtime. Yes, it's Bike Night Season. Is your bike ready? We're not just talking about aired-up tires and topped-off fluids. We're not just talking about parking your bike on the perimeter so you can walk through and look at other motorcycles. We're saying "get your own bike ready for showtime."


Spend a little money, spend a little time, and your sportbike can turn heads on summer nights.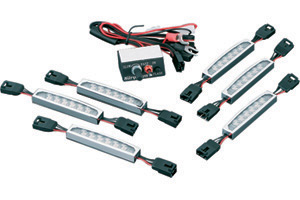 [mageProductLink sku="025-5024" title=""]The Kuryakyn Super Lizard Maximus Light Kit[/mageProductLink]

The Kuryakyn Super Lizard Maximus kit contains eight Lizard lights and all the necessary wiring, connectors, and a switch, plus installation needs like dielectric grease and more. Installation is easy with the directions included. Just mount the control switch and run lights to best showcase the beauty of your bike.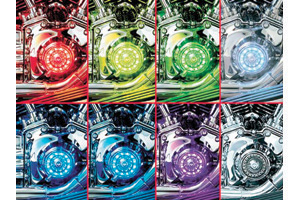 The Lizard lights cycle through a sequence of seven colors. You can set the lights to hold a certain color, or choose "paint mode" that runs through all seven colors continuously. And you can do either of these in "Steady On" or "Flash" mode. It's all easily controlled from the seat of your bike, or via optional remote control.

This kit is designed to illuminate mainly the engine compartment. You can buy an expansion kit that allows you to easily get Lizard lights back to the tail section. The switch is wired to your bike's battery, and the lights use a simple adhesive for easy mounting. The Maximus kit retails for $299.99.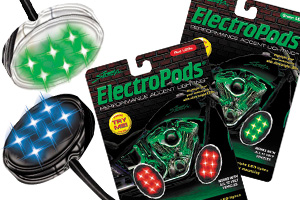 [mageProductLink sku="l642-1020" title=""]The StreetFX Electropod Lights[/mageProductLink]

The StreetFX ElectroPod lights come in individually colored kits, letting you add a solid color highlight to your sportbike.


You can purchase the oval-shaped LED pods in pairs for about $20, or in a kit containing six pods plus two light strips for around $80.


You wire this kit to any 12-volt power source, and the lights mount with adhesive to your bike. A simple "on/off" switch controls the light operation. A variety of colors are available for purchase, including red, blue, green, orange, yellow, and white.


For the light kits we highlight here, your bike's standard charging system generates more than enough power to light up the night. When you add a stereo and DVD player with viewing screen - we've seen it! - you might need to boost the generator to handle the additional electrical load.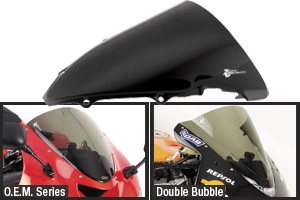 Zero Gravity Windscreens

A new windscreen can instantly give your sportbike a custom look. Zero Gravity windscreens do that for a variety of riders, from those looking for bike-night flair as well as those looking for racetrack speed. The company's windscreens are used by a number of Superbike champion racers.


Available in [mageProductLink sku="355-5206" title=""]single[/mageProductLink]- and [mageProductLink sku="fid12" title=""]double-bubble[/mageProductLink] designs, the Zero Gravity screens add a slightly increased air pocket for you to tuck in behind. For bike night? This product simply provides a superior look over stock. We especially like the smoke finish look.


Zero Gravity pre-drills the mounting holes so installation is a snap using stock mounting hardware. These windscreens retail for less than $100.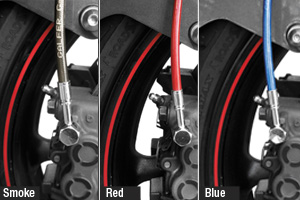 Galfer Brake Lines

When you find parts that add both style and performance, you stop - pun intended. [mageProductLink sku="319-8820" title=""]Galfer Colored Brake Lines[/mageProductLink] are steel-braided lines available in 11 colors, giving you improved braking performance as well as a very cool look.


These lines feature a PVC coating that helps protect them and your bike's finish. And the machined fittings are also available in a variety of colors. Each brake line kit is manufactured for a specific motorcycle, ensuring the right fit for each application.


Improved performance comes from the line's "zero expansion effect" construction that delivers consistent and solid braking action when you need it. Prices start at about $50.

Exhaust

If you go to a bike night and see a stock muffler, that means the owner just bought the bike today. Seriously, an aftermarket slip-on muffler is one of the most popular bolt-on goodies in the sportbike market.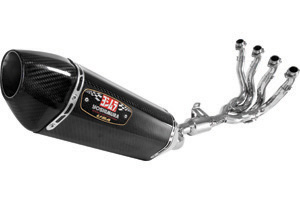 [mageProductLink sku="031-1121002" title=""]Yoshimura R-77 Exhaust Systems[/mageProductLink]

No, you don't want to look like everybody else. So consider the Yoshimura R77 Stainless Steel Full System. This system features a stainless header and mid-pipe leading to a trapezoidal muffler. The muffler/end cap combination is available in a variety of finishes - stainless/stainless, carbon/stainless, and more.


This system will deliver a custom sound, improved performance, and a race-ready look that will draw attention. Prices begin at about $477.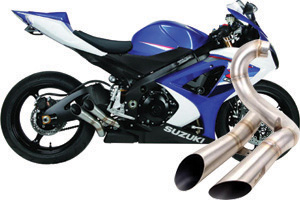 [mageProductLink sku="14-1811-1052" title=""]Jardine GP-1 Slip-On Exhaust[/mageProductLink]

If you're looking for a lower price and a minimalist look, the Jardine GP-1 Slip-On Exhaust gives that barely-there MotoGP style. This slip-on is available with or without a "quiet insert" muffler, and both are incredibly lightweight.



Bodywork

Roaring Toyz Quick Release Gas Cap

Your bike is ready for a variety of bolt-on accessories, and here's one that saves you time at the gas pump and also looks awesome. The [mageProductLink sku="356-4498" title=""]Roaring Toyz Quick Release Gas Cap[/mageProductLink] is machined on a CNC lathe from lightweight aluminum. It comes in a few different colors, bolts on easily, and doesn't require a key to access your gas fill. That means the piece is also lighter weight and easier to use than the stock gas cap. Available for all the Japanese-made sportbikes, this cap retails for $75.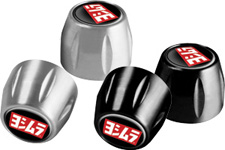 A leader in sportbike performance and style accessories for many years, Yoshimura racing has several products that will improve your bike's image for a night out. Start with a pair of [mageProductLink sku="031-191579" title=""]Yoshimura Bar Ends[/mageProductLink]. These machined aluminum pieces bolt of easily, they weigh less than stock and look far better. You can also add their aluminum Stand Stoppers - you might put your bike on a race stand someday.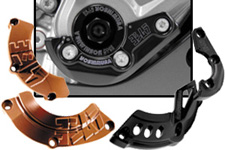 The [mageProductLink sku="031-r-k490" title=""]Yoshimura Case Savers[/mageProductLink] do more than just look superb, they will help protect your bike's engine cases in the event of even a minor tip-over. They're machined from aluminum with an etched Yosh logo, plus they're lightweight and durable.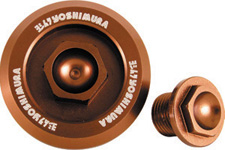 Finally, consider the Yoshimura Oil Filler Plug and [mageProductLink sku="319-1540" title=""]Engine Plugs[/mageProductLink]. Both elevate the look of your bike to high-performance machinery. Both are pre-drilled for safety wire in case your bike ever does see track time.