How To Make Your ATV A Mud Machine
Chaparral Motorsports
|
April 25, 2011
|
Last Updated: August 7, 2020
Get what you need to conquer muddy terrain
A deep and dark mud hole can be the Mt. Everest of ATV riding. It will test you and your equipment. It often gets more challenging the farther you go. And it can leave a mark - literally - on both the successful and failed. (A good bath, for you and your ATV wheels, will remove that, of course.)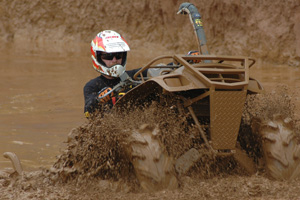 Those tackling Everest train their lungs and prepare lightweight clothing, high-protein food and climbing ropes. ATV mud specialists train their throttle thumbs, and prepare machines for increased ground clearance, traction, reliability and power transfer.
Here's how it's done:
Ground Clearance - Lift Kit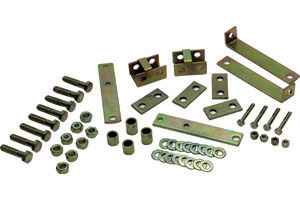 If there were an official Mud-Riding Capital of the USA, it would be in Louisiana. Makes sense, then, to turn to Louisiana-based High Lifter Products for a lift kit to add that essential ground clearance for mudding.
This lift kit will increase your ATV's ground clearance by about two inches. That alone is not going to keep your feet clean and dry. It will, however, help raise your machine over many of those nasty rocks and tree stumps you can't see below the mud line. The kit also helps your new taller tires fit because you'll be raising the body plastic away from the tire.
The High Lifter kit adds steel extension hardware to link the shock mounts to the suspension A-arms. It's a simple "bolt-on" installation for any 4x4 ATV.
Two inches of extra height might not sound like much. But raising your ATV more than that can negatively impact your machine's handling and suspension action as well as the reliability. Lift your ATV too high off the ground and you create real instability issues. That's not only poor performance, it's dangerous. A High Lifter lift kit will cost about $80 or more.
Traction - Tires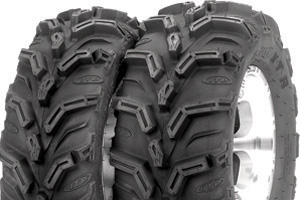 Ideally, the Ultimate Mud Machine would have 40-inch tall tires that feature 4-inch deep lugs. Right. These rubbers would be so heavy your 750cc quad would struggle to turn them. Then you're stuck - literally.
Compromise is why the ATV manufacturers stock your machine with ATV tires that are mostly lightweight. They help your quad's engine deliver the most power, but they wear fast and provide little traction in the mud.
For your Ultimate Mudder, you decide how much tire you want, and how much power-robbing weight you're willing to carry. A lot of that depends on your ATV. Running a new 800cc-plus machine from Polaris or Can-Am? Then you might be able to spin a huge mud tire. But if your mount is an aging 400cc 4x4, you should keep the mud tires smaller.
The ITP Mud Lite XTR tires are available in 25-, 26- and 27-inch sizes; buy as much or as little tire as your machine can handle. The deep angled lugs provide mud-clawing traction. The tread pattern uses a nearly solid center rib for smooth handling on hardpack. Widely spaced and angled lugs allow the tires to clean themselves of sticky mud as you ride, ensuring the tires maintain traction in the thick stuff.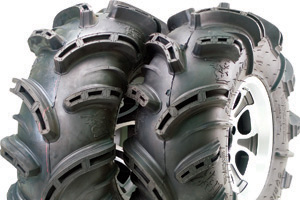 The Mud Lites are built using a 6-ply construction method for added durability, yet they're still relatively light. Prices start at about $116.
If you're a full-time mud rider, check out the Gorillas. The smallest Gorilla ATV tire measures 27 inches tall and has 1.5-inch deep lugs. You can move up from there, all the way to the 32-inch Gorilla with lugs measuring 2.5 inches deep; they need 14-inch wheels for mounting. Special sidewall tread wraps around the shoulder of the tire, all the way to the wheel. This is a pure mud tire - no compromise. This 32-inch Gorilla retails for about $250.
Power Transfer - Clutch Kit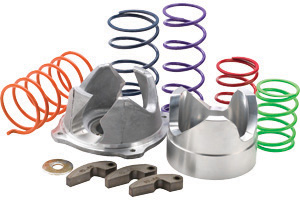 When you mount heavy mud tires on your auto-tranny ATV, the stock clutch can get over-burdened by the weight. The result is a less responsive feel, as well as more belt slippage and increased heat - that's not good. With the proper replacement parts - specially balanced flyweights, new springs, a re-shaped cam, and more - an aftermarket clutch kit can improve that throttle response beyond the stock capability, optimizing your ATV performance for work in the mud hole.
For 20 years, Erlandson Performance, Inc. (EPI) has been designing and manufacturing performance-oriented clutch kits for ATVs and snowmobiles. The company makes ATV clutch kits for almost every CVT-equipped four-wheeler made, including Kymco ATVs. For several vehicles, EPI makes "Mudder" specific clutch kits designed to reduce belt slip, and optimize power transfer for top performance in these difficult conditions.
An owner with good mechanical experience and quality tools (including a clutch puller and spring compressor) can do this job at home. Don't attempt this job without the right tools, however - it could be easy to hurt yourself or your ATV's components.
Breathe - Snorkel Kit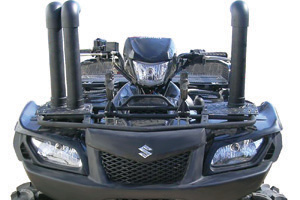 ATVs can handle a little bit of water, but if you're serious about going deep in the mud and water, a snorkel kit can pull you through.
We have seen a lot of DIYers online stating you can just go to the local hardware or plumbing store, buy some PVC pipe and make your own snorkel kit. And the kit may appear to be a simple assemblage of tubes and hardware, but it's not that simple. And it's not a good idea to test your own parts-design skills with air-intake components.
This kit includes the right size parts and hardware as well as installation instructions so you can confidently go deep. Follow the directions carefully, and remember to seal the airbox drain holes and lid. You may need to adjust your ATV's carburetor settings due to changes in intake air flow. Most EFI-equipped machines will adjust automatically, but even some of those may require modified settings.
Insurance - Warn Winch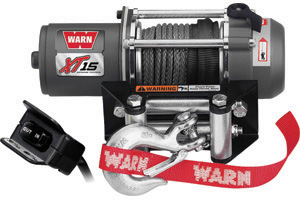 A winch is like a microwave or TV remote control - you wonder what people did before these were around. A winch is essential for mud riding, and the leader of winching for any 4x4 vehicle is Warn Winch out of Oregon.
Mud riding presents a couple unique challenges for winch installation. Mounting a winch inside the frame at the front of your ATV looks the best; you can do this so only the winch hook shows, and it keeps the ATV the same length. That's best if you haul your quad in your pickup bed. But it also restricts your access to the winch when you're in the mud, and it demands extra-careful cleaning post ride.
Some serious mud riders mount the winch up high, even on a front rack, but that's not a secure mounting location. One great solution is a multi-mount system that allows you to move your winch from the front to the back of your ATV, securing the equipment with receiver-hitch setups at both ends. Quick-connect wiring front and rear makes this possible, and even allows you to leave the winch at home if you're sure you won't need it.
Winch installation is fairly simple, requiring just standard hand tools and some simple wire routing. It's not a matter of if you need a winch; it's simply which Warn will you buy?