Find The Perfect Utility ATV
Chaparral Motorsports
|
April 26, 2011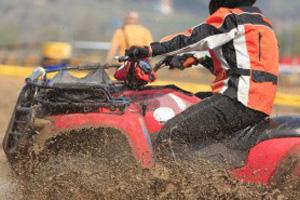 For the uninitiated, purchasing an ATV can be an overwhelming process. There are a wide variety of brands and models and those who have never been on a quad bike before may have some trouble choosing between them.

A good place to start is by learning about the two main types of ATVs. All brands make both sport models, tuned for performance and leisure riding, as well as utility models, which are aimed at professionals who need the vehicles for work. That being said, there are some utility models that will also be useful for leisure riding, but it all depends on where you plan on traveling.

For example, there are some scenarios, such as off-roading in fields or woods, where a utility ATV is a better choice than a sport ATV. Utility ATVs are designed to be able to handle this terrain with ease, as they're primarily used by farmers who need to get across their property quickly. However, if you plan on riding on dirt or a pre-made race track, then you'll likely want to opt for the sport ATV instead.

Why Choose A Utility ATV?
Whether you're a farmer heading out to the fields or a construction worker who needs to carry something across a site, a utility ATV is a strong - and cost-effective choice.
Perhaps the best part about utility ATVs is that they can handle nearly any task that you throw at them. Depending on the class of ATV that you purchase, these vehicles can handle anywhere from 150 to 250-plus pounds of gear. And while they obviously won't be able to tow like a pickup truck, they do have a tow hitch that will come in handy for some lighter work. Perhaps their most useful feature is that they can transport riders quickly to areas that normal vehicles can't. Whether you're a farmer heading out to the fields or a construction worker who needs to carry something across a site, a utility ATV is a strong - and cost-effective choice.

Utility ATVs are probably also the best choice for beginners. Sport ATVs are much smaller and lighter, but that can make them a bit difficult to handle on tough terrain. Utility ATVs, on the other hand, are large and in charge, and allow you to drive over pretty much anything and not have to worry about getting jostled around.

With that in mind, drivers should realize that they're certainly not invincible just because they're on a utility ATV. All riders should purchase an ATV helmet, but it's especially important for first-time owners. You should also check your state's laws to see if helmets are mandated, as this directive varies across the country. Some states only require helmets in certain situations, while others necessitate them all the time or not at all.

So now that you know a little bit about what to expect from utility ATVs, what are some of the best models to fit the type? All that major manufacturers offer multiple utility models, as these bikes actually make up 80 percent of the ATV market. That means you'll have a plethora of options to choose from when it comes time to select a vehicle.

Honda FourTrax Rincon
[caption id="" align="alignright" width="300"]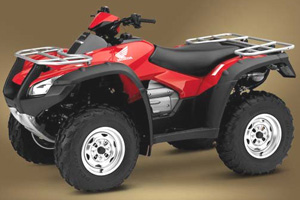 2011 Honda FourTrax Rincon[/caption]

One model that we really like when it comes to utility ATVs is the Honda FourTrax Rincon. The Rincon is one of the more famous models among utility ATV veterans, and this year's version may be better than ever.

With a fully-independent rear suspension, you'll get optimal traction no matter what kind of terrain you're riding. Great handling is nothing without power to back it up, and the Honda has that in spades. A 675cc single-cylinder four-stroke engine will get the job done and then some. Honda styles this model like a mini SUV, and with a three-speed automatic transmission, you might think you're in a CR-V.

Something that riders should look for when purchasing a utility ATV is a liquid-cooled engine, as this ensures that the engine won't overheat when it's towing or loaded up with gear. The Honda FourTrax Rincon has a liquid cooling system, making it a top choice for those looking for a heavy-duty ATV. Perhaps best of all, the Rincon is quite light on its feet, weighing just 648 pounds. The Rincon retails for approximately $8,800.

Polaris Sportsman X2 550
[caption id="" align="alignright" width="300"]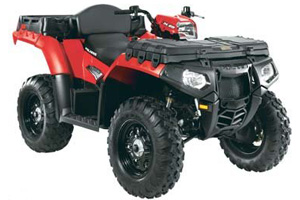 2011 Polaris Sportsman X2 550[/caption]

Another bike with a liquid-cooled engine at a similar price point is the Polaris Sportsman X2. This is a good choice if you're planning on using the ATV for both work and play, as it has dedicated modes that will optimize the bike for either. Rear-cargo mode is what you'll want to be using when you're towing or have loaded up the back with gear, as the bike makes more efficient use of its power while in this mode.

When you decide to hit the trails, switch on over to Touring mode in order to achieve better performance. Polaris has really gone the extra mile with making this model comfortable, as the latest version of the X2 550 provides perhaps the cushiest seat in the industry, with a full back for extra support. That makes this model a joy to drive whether you're working or playing.

The X2 550 is a bit heavier than the Rincon, but does feature a 550cc engine with liquid cooling. It retails for approximately $9,000.

Can-Am Outlander 500 EFI
[caption id="" align="alignright" width="300"]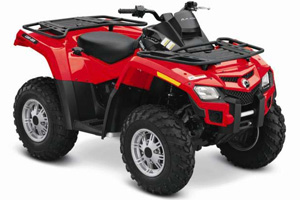 2011 Can-Am Outlander 500 EFI[/caption]

A slightly cheaper option in this range is the Can-Am Outlander, which sells for $7,799. What's unique about this bike is it's V-Twin engine, whereas every other model in this segment is equipped with a single-cylinder. Can-Am claims that this gives the bike the most horsepower and best power-to-weight ratio in the class, which is certainly something worth considering given the bike's low price.

The Outlander 500 also features electronic fuel injection and cast-aluminum wheels, which provide better shock absorption. This is also one of the lighter bikes in the segment at 654 pounds.

Can-Am Outlander X 800 EFI
[caption id="" align="alignright" width="300"]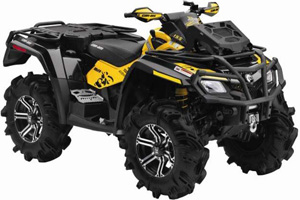 2011 Can-Am Outlander X 800 EFI[/caption]

Those who want a true beast of an ATV will have to look elsewhere in the Outlander family with the Can-Am Outlander X. This ATV looks like a tank and handles terrain like one too. With an 800cc engine producing an industry-leading 71 horsepower, there's nothing that the Outlander 800 can't handle.

Like its smaller brother, the Outlander's engine is a V-Twin with a single overhead camshaft and eight valves in all. While what's going on under the hood is certainly noteworthy, the outside of the bike is eye-catching as well. You'll certainly notice the 30-inch Gorilla Axle Silverback tires, with deep treads that can chew up any sort of riding surface.

The Outlander 800 is a true workhorse as well, with a towing capacity of 1,300 pounds, a rear rack capacity of 200 pounds and a front rack capacity of 100 pounds. There's also a rear storage compartment that can fit 5.3 gallons worth of accessories and gear.

Of course, all this power and payload capacity comes with a price - this bike will set you back about $13,000. Obviously, this is an ATV built for serious work, so be sure you'll put it to good use.

All in all, this is just the tip of the iceberg when it comes to utility ATVs. There are numerous options from every manufacturer in every market segment, so if none of these models sound like what you're looking for, there's sure to be something out there that will fit your needs.