Vemar Jiano Bluetooth™ Modular Street/Adventure Helmet
Chaparral Motorsports
|
April 22, 2011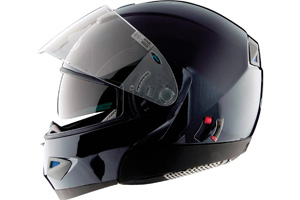 You ride a motorcycle to hide from your cell phone, right? Zip that phone into a jacket pocket or tank bag, and there's no way you'll hear it ring. That's fine, but your riding buddy had to stop for gas quickly. A customer is trying to reach you. And the baby-sitter is calling because your son just ate one of the goldfish.

Seriously, you can turn the phone off sometimes, but staying connected while riding a motorcycle is the smart thing to do. Now there's a top-quality helmet that makes it easy and comfortable.

The Jiano Bluetooth™ helmet from Vemar Helmets integrates Bluetooth™ technology that is fully compatible with your cell phone, GPS and related electronics. No one is forcing you to talk on the phone, but isn't it nice to know you can when you need to?

Ride Connected
The Jiano's Bluetooth™ system is fully integrated - with no installation required - into the helmet, including speakers, a microphone, and exterior controls for power and volume. Just like pairing any Bluetooth™ headset with a cell phone, setup is easy. It will just as easily connect with compatible electronics like your GPS. The battery power will last up to 10 hours, and recharging is easy.

With two Jiano helmets, a pilot and passenger can communicate clearly using the intercom feature. For communication with other motorcyclists, you simply call them on their phone - hoping they have a helmet as cool as the Jiano.

You can also listen to an audio system that uses Bluetooth™ technology - keeping you up to date on your favorite podcasts, or connected to your special riding music. The helmet's speakers aren't high-fidelity stereo quality, but you are riding a motorcycle, remember?

The Jiano Helmet
Available with or without Bluetooth™, the Jiano is a modular "flip-up" helmet from Italian helmet-manufacturer Vemar, which has been manufacturing top-of-the-line motorcycle helmets for 25 years. This helmet meets DOT certification requirements, as well as CE standards as a full-face helmet - the chin bar is tested, too.

The Jiano's exterior shell is constructed of an ultra-light thermoplastic material that is aerodynamically shaped to cut through the air with less buffeting and wind noise. When closed, the chin bar locks securely using internal metal pins and hooks, making it extremely resistant to opening in the event of an accident. The modular helmet is easy to open - even when wearing gloves thanks to a nicely recessed actuation button.

An exterior clear shield is standard. And the Jiano also features an interior shield with a "smoke" finish that can be raised or lowered at the rider's discretion. Flip open the modular chin bar, and this interior shield drops automatically for safety and aero comfort.

The Jiano features a removable and washable inner liner and plush polyurethane cheek pads. Its padded chinstrap has a micro-adjustable closure buckle that is safe and easy to use. Vemar's exclusive "Klima" full ventilation system is adjustable for different climates.

Even with the Bluetooth™ system, the Jiano helmet weighs only 4 pounds. The Vemar Jiano Bluetooth™ retails for $500. It's available in black, and in a wide range of sizes. The standard non-Bluetooth version retails for $275.