Shorai Battery - Help Your Bike Shed Some Pounds
Chaparral Motorsports
|
April 22, 2011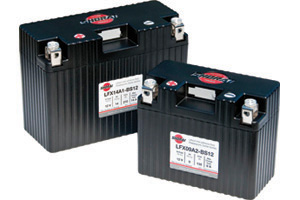 You spend all kinds of money on weight-saving goodies for your motorcycle, then eat a giant breakfast burrito with extra cheese prior to your ride. A contradiction, perhaps. Well, order up a large side of home fries because we just saved you another four pounds, maybe more.

It's not a new diet plan. It's the new [mageProductLink sku="388-0001" title="Shorai LFX Lithium Battery"]Shorai LFX battery[/mageProductLink] . For years, all the toys you love - motorcycles, ATVs, personal watercraft - have gotten their electrical juice from lead-acid-based batteries. They are heavy, they can be environmentally unfriendly, and they require your attention. But it's the weight that so many powersports enthusiasts - especially racers - seriously despise.

Lithium, Not Lead
Shorai batteries are made using lithium-iron, not lead-acid liquid mixes. Lithium is at the heart of what makes Shorai LFX batteries different.

These lithium-iron batteries are not the same makeup as the lithium-cobalt batteries used in laptop computers - you know, the ones that get so hot sitting on your lap, and the ones that have started fires. "Lithium-iron is safer during overcharge conditions," said Radford. "Lithium-cobalt is lighter, but for starter batteries, the LFX Lithium-iron is quite light."

How Light?
"Some riders won't notice the weight difference," said Radford, "or even care if there is one. But with my BMW G450X enduro, I dropped 3.3 pounds by switching from the stock lead battery to our LFX09, and that weight sits up. That makes a startling and positive difference in the way the bike handles and feels." Others powersports vehicles?

Motorcycles
Honda CRF450X - reduce four pounds
Honda CBR600 - reduce more than four pounds
Kawasaki KLR650 - reduce more than seven pound
Ducati Multi-strada - reduce more than eight pounds

ATVs
Suzuki LT-R450 - reduce more than six pounds
Yamaha YFZ450R - reduce more than four pounds

Personal Watercraft
Kawasaki STX-15F - reduce more than 11 pounds

Weight savings do more than just feel good. Cutting pounds adds horsepower, and also helps with fuel economy. And for "adventure" riders who sometimes carry a spare battery on long rides, that's double the savings.

Hot and Cold
Powersports enthusiasts are used to caring for a lead-acid battery in cold temperature conditions. We also know they can get too hot in certain environments - but we understand and live with that. A Shorai lithium-iron battery will broaden that range, giving you more reliable ATV riding in the winter, and better starting all season.

Cold starting, in particular, is far easier for a lithium-iron battery. In fact, the voltage delivery improves with each start attempt (just the opposite of a lead-acid battery). "Applying a load before cranking, like turning on a headlight, will actually wake up the battery," said David Radford, President of Shorai.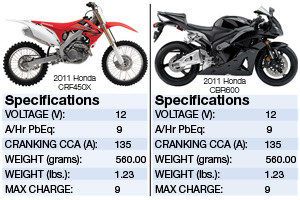 Durability and Life
Some people don't like to be the first to buy a brand-new product. While the Shorai LFX batteries are fairly new to the market, the cells that make up the Shorai LFX were first introduced nearly five years ago. "We have been further developing them specifically for starter battery usage since the end of 2008," said Radford.

Of course, individual life span of any battery varies with the vehicle, its environment and how it's used. Shorai estimates that its batteries will last at least as long as a lead-acid battery. And even if the Shorai had the same life span, its weight advantage alone breaks the tie.

The biggest advantage, however, may be that the lithium-iron LFX battery ends "sulfation" issues - that happens when your vehicle and battery sit unused, and un-tended. If you ride everyday, no problem, your vehicle's lead-acid battery will not lose significant charge. But if your motorcycle sits for a few weeks, the Shorai LFX battery will hold its charge - no need to plug in a battery "tender" - and your motor will turn over right away.

Check out our Motorcycle Batteries Buyer's Guide!