Chaparral Motorsports Launches Low Price Guarantee Program
Chaparral Motorsports
|
April 22, 2011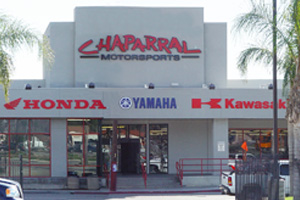 Chaparral Motorsports, one of the leading motorcycle dealerships in California, recently announced the launch of a low price guarantee program intended to help customers find the best possible deal when they are shopping for a new motorcycle and ATV parts and accessories, like motorcycle tires.

Under the terms of the guarantee, if customers find an advertisement from an authorized U.S. dealer that offers a lower price than Chaparral Motorsports, the California company will match it if the product is in stock.

"Our customers should feel comfortable knowing that Chaparral is offering competitive, low prices for its motorcycle parts and accessories," said Crystal Ashby, the Vice President for Marketing at Chaparral Motorsports. "The Low Price Guarantee program offers purchase peace of mind."

In order to take advantage of the low price guarantee, customers must fax or mail a verifiable copy of the other dealer's advertisement to Chaparral. The ad must include the store name, sale dates and all part numbers.

Motorcycle shoppers must submit a price match request before ordering for the low price guarantee to apply. All prices reflect the total item cost, including shipping, handling, taxes and other fees. Moreover, items involved in the low price guarantee program must be new, in stock and match in terms of size, color and model year. If the competitor's advertisement features items on sale, customers must make their price match request before the sale concludes. In addition, deals promoted online are only applicable if they are offered by established retail companies with a physical address.

Exceptions to Chaparral Motorsports' low price guarantee program include closeout, clearance, backordered items, items with blemishes, demo models, factory seconds, products that come free with another purchase, free shipping offers, competitor coupons, verbal or e-mailed quotes, auction websites, private sales and orders placed through Amazon.com. Chaparral will not backorder out-of-stock items and will not offer a low price guarantee in conjunction with any other promotion or discount.

Customers who hope to take advantage of the low price guarantee program should take note that Chaparral Motorsports reserves the right to approve or deny price match requests at its sole discretion. Additionally, the terms and conditions of the program may be altered or discontinued at any time, and Chaparral is not required to offer any form of notice.

Chaparral is located at 555 South H Street, San Bernardino, California, near the 10 and 215 interchange. Call for directions at 909-889-2761. Chaparral Motorsports® is recognized as one of the largest motorcycle accessory and vehicle dealerships in the country. Chaparral Motorsports now encompasses a 160,000 square foot footprint. Started as a family motorcycle parts business, Chaparral Motorsports® has developed into a multi-line motorcycle and ATV dealer, offering Honda®, Yamaha®, Kawasaki®, KTM®, Suzuki®, Can-Am, Victory®, Polaris® and Kymco ATV's, motorcycles, and utility vehicles. Check www.ChaparralMotorsports.com for more news and information.