A Buyer's Guide To Finding A Sport ATV
Chaparral Motorsports
|
April 22, 2011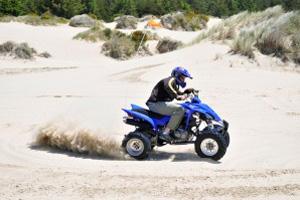 For those buying their first ATV, the process can be a bit intimidating. ATV riding is extremely popular, and there are so many brands and models on the market today that it can be difficult to make sense of it all.

The first step is for buyers to decide whether they're looking for a utility or sport ATV. Many farmers, for example, use ATVs for menial labor and to get around their property quickly, and this type of work demands a certain vehicle. These ATVs would fall under the "utility" category.

However, many riders are instead looking for a fun model that they can go off-roading with on the weekends. In this case, they should go with a "sport" ATV. First time buyers might assume that there's not much difference between these two types of vehicle, but there definitely is. Sport ATVs will be tuned for off-roading, feature much larger engines, and are generally smaller and lighter than their heavy-duty counterparts in the utility category.

Obviously, if you're interested in getting into ATV racing of any sort, you'll also be looking at a sport ATV, as these machines are tuned for performance above all else. Whether you're purchasing a sport or utility vehicle, price won't factor into it too much - they generally tend to cost about the same. The difference is primarily in what you'll be using the vehicle for.

Those considering a sport ATV should know that it'll take some getting used to if they've never ridden before. Investing in a few ATV riding lessons is a smart choice for anyone who plans on buying one of these machines, and it's actually required in some states. Of course, you'll want to pick up an ATV helmet as well - many states have laws requiring them, and it's simply a good idea even in areas that don't.

So now that you're ready to purchase a sport ATV, what are some of the top models? Riders should keep in mind that there are a wide variety of styles and brands to choose from in the world of sport ATVs. Nearly every manufacturer makes multiple models that could be designated as sport ATVs. We'll go over some of the choices here, but this is by no means a comprehensive list.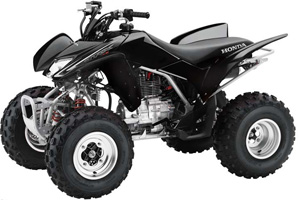 A nice option for beginners is the Honda TRX250X. This ATV is not too expensive and beginners won't have to deal with all the power that some of the larger models produce. Priced at $4,400, the TRX250X is a good choice for those who plan on doing some light riding on the weekends. It features a 230cc four-stroke single-cylinder engine - nothing that will win you any races, but it gets the job done. Perhaps best of all, this ATV is light on its feet, weighing just 380 pounds.

Those looking for a power increase will be spending more as well, but there's no shame in wanting a bit more performance out of a sport ATV. For these types of riders, we like two of Yamaha's ATV models.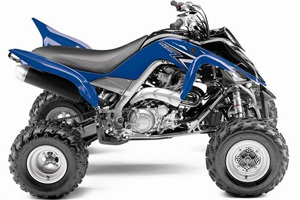 The Raptor 700R is a beast of an ATV that will certainly turn some heads while you're riding it. If you've got a flair for style, this is the bike for you, as it sports aggressive lines and plenty of chrome up-front. Yet it's not all style and no substance. Yamaha touts this model as the king of the big bore ATVs. With a 686cc 4-stroke engine, it's unlikely any type of off-road terrain will slow you down. The Raptor retails for $8,400.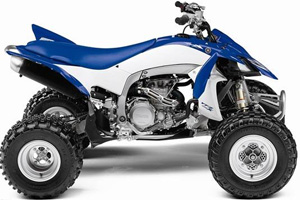 If you're looking for a bike that's tuned more for racing, go with the Yamaha YFZ450X. The 450cc 4-stroke doesn't produce as much raw power as the Raptor, but the bike is better equipped to handle twists and turns with its excellent suspension. Yamaha prices the YFZ450X at $8,600, so it's a significant investment, but one that may be worth it to some riders.