A Buyer's Guide To Finding A Commuter Motorcycle
Chaparral Motorsports
|
April 21, 2011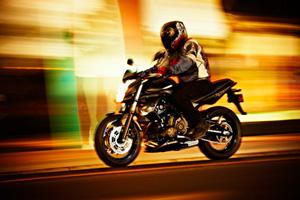 Gas prices have skyrocketed as of late, climbing above $4 per gallon in some parts of the country. Given this news, those who have a long commute each morning might be looking to save some money at the pump each month. Sure, many drivers are switching to small, fuel-efficient hatchbacks to combat the rising fuel costs, but when it comes to mpgs, nothing really beats a commuter motorcycle.

Save Money with a Commuter Motorcycle
In terms of pure cost-effectiveness, a commuter bike is the best way to get to the office each and every day. Not only are motorcycles far cheaper to purchase than a car, but they also routinely beat even the most "eco-friendly" models for miles per gallon. Many SUVs, known as "gas guzzlers," average around 20 miles per gallon. The most fuel-efficient gas-powered vehicles on the market today rarely crack 40 miles per gallon. Yet many commuter bikes routinely achieve more than 60 miles per gallon.

That means upgrading to a commuter motorcycle, even from a vehicle that is already dubbed "fuel-efficient," is akin to going from a Range Rover to a Ford Fiesta. Already driving around in an SUV? Prepare to see your wallet expand considerably - you'll be saving tons of cash every month.

A Commuter Motorcycle will get you home faster
So is the commuter motorcycle just a tool to be used when gas prices spike and left off to the side once they die down? Not at all. Once you try riding to work on your motorcycle for the first time, you likely won't go back. While everyone else is stuck in traffic, motorcycle riders can steer off to the side and get to where they're going quickly and easily. As you speed past stopped car after stopped car, you'll realize why many bikers refer to cars as "cages."

More than that, it's simply fun. Nobody really skips out of bed in the morning so that they can get in their car and sit in traffic for a few hours. "Morning commute" is up there with "root canal" on the list of things that many people dread the most. But commute to work a few times on a motorcycle, and you might start to actually enjoy the morning routine.

Commuter bikes belong to the "standard" family of motorcycles, which can sometimes be a bit overlooked. In recent years, bikes have become more specified to appeal to certain demographics. There's cruisers, sport bikes, dirt bikes, touring models and much, much, more. Yet the standard, also known as a "traditional" or sometimes a "naked," has remained relatively unchanged since motorcycles were first invented. These bikes are perfect for someone who is just getting into riding or who simply don't need any of the extra features that other bikes offer. Think of them as the midsized sedan of motorcycles.

Thus it's no surprise that these well-balanced bikes make an excellent choice for commuter vehicles. With much smaller engines than their sport bike brethren, these bikes are not only more affordable, but they're much more fuel-efficient not to mention how much you save with cheaper motorcycle tires. Standards are quite easy to learn on, as they have an upright riding style that will feel natural to beginners and don't produce too much power, which makes them easy to handle. Even if you've never ridden a motorcycle before in your life, a few training courses on a standard and you'll be commuting to work like a pro in no time.

Riders should also note that these bikes are very easy to customize with aftermarket motorcycle accessories. For example, if you need some space to store your briefcase or don't like the feel of the wind in your face, you can address this with storage accessories or a larger windscreen.

So now that you know what a commuter bike is, what are some of the models that fit the type? Keep in mind that nearly every manufacturer makes some type of standard vehicle that can function as a commuter bike. Ultimately, the best model to ride to work on every morning is one that you feel comfortable with.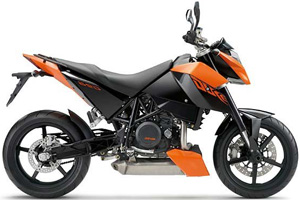 One of the better commuter models on the market today is the KTM 690 Duke. KTM has always made bikes with great fuel efficiency, but the 690 Duke really takes the cake. In fact, at the recent 2010 Econorun in South Africa, a competition to see which bikes would use the least fuel under a variety of conditions, the KTM completed the course with an average of approximately 73 miles per gallon. Now, the old adage of "your mileage may vary" certainly applies here, and you should likely be expecting anything between 55 and 70 miles per gallon on most days. However, it's still an impressive figure.

Riders can expect about 65 horsepower from the 690 Duke's one-cylinder engine. For those coming from the automotive world, these figures might sound low - but keep in mind that a motorcycle is much lighter than a car and needs far less power to get the job done. The 690 Duke retails for approximately $10,600.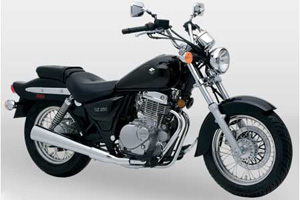 There's no doubt the KTM is a nice bike, but those who are riding for the first time might not be ready to handle its power. Instead, they'll want to look at commuter motorcycles in the 250ccs range. Of these models, we'd rate the Suzuki GZ250. The price is unbeatable - just $3,000 - making it the perfect choice for a rider who's just getting their feet wet in the world of motorcycles.

Think of the GZ250 as a more practical version of a scooter or moped that many urban dwellers are turning to. Yet the Suzuki can go on the highway and handle trips outside the city all while getting excellent gas mileage - Suzuki claims 82 miles per gallon. Keep in mind that you're sacrificing quite a bit of power to achieve that figure, but it's still worth considering.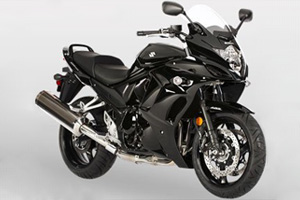 On the complete other end of the spectrum is another model from Suzuki, the GSX1250FA. It's hard to believe that the GSX1250FA is from the same family of motorcycles as the much smaller GZ250, yet they're both considered standards. Those who simply can't cope with the lack of speed offered with the GZ250 will be getting all the power they can handle with its bigger brother.

Suzuki says that the model has "sports bike DNA," and it certainly looks and feels the part. Yet it's important to remember that the GSX1250FA is not a sports bike - you won't have to deal with the aggressive riding style seen on racing-inspired models. It's a much more practical choice for everyday use. Whether you're taking the bike to work or heading out on a road trip, the GSX1250FA will get you there - quickly. Retailing for $11,600, this is a serious bike for a serious rider - but a purchase that you won't likely regret while riding in to the office.

These are just some of the many bikes that can fill the commuter niche, so those considering a purchase should consider other models as well. In the end, commuting to work on your bike is a smart decision - and one that may even save you money in the long run.