Team Husqvarna Has Another Winning Weekend
Chaparral Motorsports
|
April 20, 2011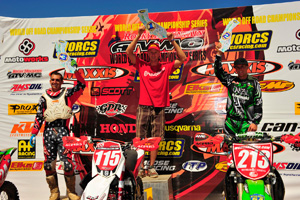 Graffunder Grabs WORCS Win While Mandi Mastin Takes AMA Enduro And Makes Another ISDE Team
It was another big weekend for Team Husqvarna as Cory Graffunder won the Pro2 class at the WORCS race in Anza, California, while Mandi Mastin won the Women's Class at the AMA National Enduro in West Point, Tennessee. Graffunder's WORCS win was a first for the Zip-Ty Racing TXC449 rider, but Mastin's Enduro/ISDE qualifier victory on her Hall's Cycles TXC250 was old hat to the multi-time Enduro champ and Six Day medalist.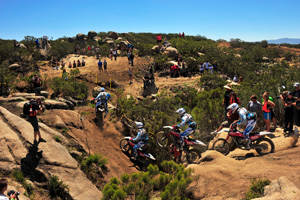 Consistency has kept the Canadian export in contention for the WORCS Pro2 title so far this season, but every race has been a battle with archrival Justin Seeds... this one the closest yet as less than 2 seconds separated the two after nearly an hour and a half of racing! Despite smashing his foot on the first lap, Cory set a torrid pace. "I had a good start and was 2nd right away, so it sucked that I banged that rock on the first lap!" In fact Graffunder and Seeds' battle took them past many of the Pro Class competitors as they finished just behind crowd favorite Ryan Hughes in 13th and 14th overall.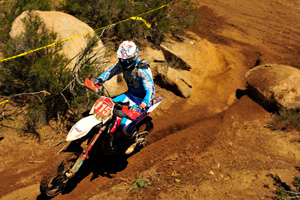 "I was chasing Seeds on the first lap when we hit the Pro rock section and he opted to go around, so I jumped 'The Gorge' and passed him," Graffunder explains. "I hit so hard my hands flew off the bars, but somehow I did not crash! That rocky gulch jump was kind of deceiving... it was a downhill run-up and you had to be careful, but that is how I was able to keep Seeds in check."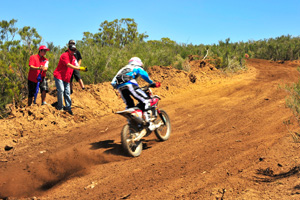 "On my last pass through the pits I read that I had a 13-second lead on the pitboard, but by the time we neared the MX track, looked back and Seeds was charging! For the last few minutes we both went hammer-down, bar-to-bar all the way to the finish line. I could hear him coming up beside me in every turn!" This win puts Graffunder just 6 points out of 1st place in the WORCS Pro2 class after four rounds.


Meanwhile Women's champ Mandi Mastin continues to enjoy her new Hall's Husqvarna TXC250, winning the AMA National Enduro/ISDE Qualifier (International Six Days Enduro) combo. "The weather was great for the day of the race, but for the two days leading up to it, things weren't so pretty! The area experienced 3 inches of rain on Friday night alone, so there were a couple of mudholes here and there and the terrain was kind of slippery," explained the multi-time women's Enduro champion.


"I rode conservatively since it was so slick early on, but throughout the day the trails seemed to dry and continue to tack up!" Taking advantage of the traction, Mandi managed to make it look easy... well, easy for her! "I hold the lead in the series with a perfect 4 for 4 so far. Also, I have qualified to go to the ISDE again this year in Finland. This will be the 10th time that I have raced the ISDE and I have to say that I'm pretty darn excited for August to get here!"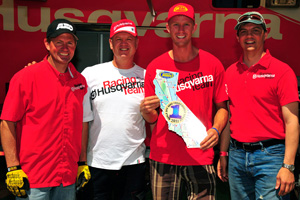 "Talk about the wild west, Husky wins on the West Coast and in West Point," exclaims Husqvarna's National Marketing Manager Corey Eastman. "Congratulations to Cory Graffunder for winning WORCS and to Mandi Mastin for qualifying for the ISDE for the 10th time! This is exactly what we mean by our Ride More message!" To help everyone get the "Ride More" message, Eastman notes that Husqvarna is offering fantastic financing (2.99% APR for 2011 machines and .99% for 2010 and earlier models), as well as terms up to 60 months.