SERT Wins World Endurance Opener
Chaparral Motorsports
|
April 19, 2011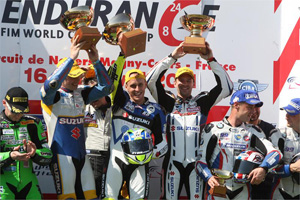 Suzuki Endurance Racing Team has won the opening round of the 2011 Qtel World Endurance Championship - the 24-hour 75th-Anniversary Bol d'Or at Magny Cours in France.


The GSX-R1000-mounted reigning World Champions crossed the line at the 3pm finish with 814 laps completed; six laps clear of race-long rivals SRS Kawasaki (808 laps), BWM Motorrad France 99 (803) and Bolliger Team Switzerland (802).


SERT riders Vincent Philippe, Freddy Foray and Anthony Delhalle dominated from the start - even though first rider off at 3pm on Saturday - Philippe - was still feeling the after-affects of a heavy fall in the morning warm-up that meant the team had to use its number two machine for the race.


At the five-hour mark, SERT had clocked-up 173 laps; one more than SRS Kawasaki and BMW. Through the night, the Suzuki trio opened the gap to three laps over SRS, with the Bolliger Team Switzerland Kawasaki climbing into the top three places when BMW broke a chain.


From sunrise on Sunday, SERT used its experience to gradually increase its lead - to seven laps at one stage - plus time its pit-stops precisely to bring the GSX-R1000 home to an emphatic home victory for the Le Mans-based squad.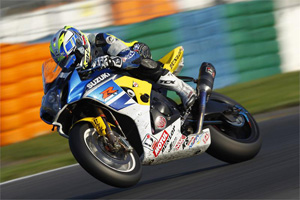 It was the team's fourth-consecutive victory at the Bol d'Or and Philippe's seventh, which equals the record number of rider wins.

Bol d-Or Results:

1. SERT - Vincent Philippe, Freddy Foray, Anthony Delhalle 814 laps

2. Team SRS Kawasaki - Julien Da Costa, Gregor Leblan, Olivier Four 808 laps

3. BMW Motorrad France - Sebastien Gimbert, Damian Cudlin, Erwan Nigon 803 laps

4. Bolliger Team Switzerland - Horst Saiger, Roman Stamm, Jerome Tangre 802 laps

5. Honda TT Legends - Steve Plater, John McGuiness, Keith Amor 796 laps

6. National Motors - Eme Jonchiere, Luc De Carolis, Etienne Masson 794 laps

7. YMES Folch Endurance - Bisch Ribalta, F Vallcaneras, Jose M Luis Rita 789 laps

8. Yamaha France GMT 94 - David Checa, Kenny Foray, Matthieu Largrive 785 laps

9. Metiss JLC Moto - Christoph Michel, Marc Fissette, Emman Cheron 781 laps

10. T Motors Events Bo - Mathieu Gines, Vincent Bocquet, Emilien Humeau 779 laps