KTM Motorsports And The Mid-Ohio School Announce 2011 Race_Orange Fly And Ride Dates
Chaparral Motorsports
|
April 19, 2011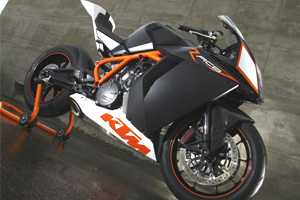 KTM Motorsports and The Mid-Ohio School are proud to announce six KTM Race_Orange Fly and Ride dates for the 2011 season.

Earlier this month the pair announced the continuation of their partnership through 2012, a partnership that began when KTM Motorsports was named the official motorcycle of the The Mid-Ohio School back in 2008.

The KTM Race_Orange Fly and Ride Program is a unique opportunity for participants to ride KTM motorcycles like the 1190 RC8 R and the 990 SM R on the Mid-Ohio race course. KTM provides the motorcycles and handles the fuel, tires and other maintenance throughout the day, allowing riders to truly 'arrive and ride.' The Mid-Ohio School's track coaches also offer their expert instruction.

The initial 2011 dates for the six Fly and Ride programs offered this year are Monday, April 25; Monday, May 2; Wednesday, June 1; Thursday, July 21; Monday, July 25; and Wednesday, August 31.

"The Fly and Ride program continues to expand as our riders' demand exceeds the number of dates we offer each year. We're up to six dates this year," said Brett Roubinek, general manager of The Mid-Ohio School's Performance Track Riding program. "Riding a top bike on a top track is a fantastic opportunity that we're able to offer our customers at a great value with KTM's support."

New for 2011 as part of the partnership extension, KTM Motorsports and The Mid-Ohio School offer customers the option to rent a KTM 1190 RC8 R during any of the 2011 Performance Track Riding dates, for either a full- or half-day. This addition extends the number of opportunities a rider has to pilot a KTM at Mid-Ohio Sports Car Course.