FMF/KTM Team Sweeps Podium At West Point National Enduro
Chaparral Motorsports
|
April 19, 2011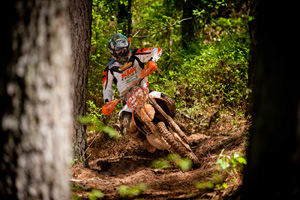 The FMF/KTM Team swept the podium at the fourth round of the AMA National Enduro Series held in West Point, TN when all three team members put together impressive performances to take all three steps of the podium.


Three-time National Enduro Champion, Russell Bobbitt, took the win at the Rad Dad National Enduro after placing within the top two in all special tests. His teammate and the reigning National Enduro Champion, Charlie Mullins, placed 2nd overall after winning two special tests but coming up short in the final test. The third member of the team, Cory Buttrick, put together a nice ride to finish 3rd overall despite a bad spell of food poisoning that struck him at the tail end of the day.


The course had seen a large amount of rainfall prior to the race which had left the course muddy and greasy in many sections. "It was very slick today," commented Bobbitt. "I only encountered one problem throughout the day and that was on the second test when a lapper swerved in front of me and we collided in a mud section. I got up pretty quickly and was able to finish that test with the 2nd fastest time."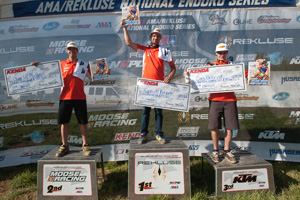 Bobbitt finished 2nd in the first four tests missing the win in three of those tests by a mere second. He won the fifth test section and really turned heads with his win in the final section. He dominated the final test by 40 seconds over the next closest rider to cruise to an easy win. "I knew I was having a good ride in the last test because I was able to catch a lot of the riders on the line in front of me but I didn't expect to win that test by that big of a gap. It was just a nice tight section and I flowed real well. I didn't hit any trees and just rode real smooth throughout the section."


Bobbitt's win at the fourth round increases his points lead to 13 points over his teammate Mullins. The next race for the FMF/KTM National Enduro riders will be held in Bismark, AR on May 22, 2011.

Overall Results

1) Russell Bobbitt

2) Charlie Mullins

3) Cory Buttrick

4) Nick Fahringer

5) Mike Lafferty

6) Andrew Delong

7) Shane Hufford