2011 Seattle AMA Supercross Results
Chaparral Motorsports
|
April 19, 2011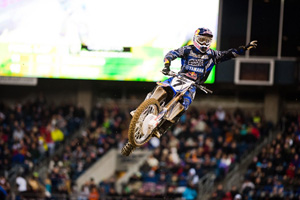 2011 AMA / FIM World Championship Supercross series round 15, Seattle, Washington race results/recap:

Stewart Aces Seattle to Set Up Thrilling Series Showdown

The 2011 AMA Supercross series is going down to the wire in what many are describing as the best championship in recent memory. San Manuel Yamaha's James Stewart won his second Main Event in succession last Saturday at a cold and damp Qwest Field in Seattle in front of more than 52,000 spectators. The former champion's recent spurt of good form means that four riders are split by just nine points at the top of the standings with just two rounds from the seventeen remaining.


Stewart controlled the vast majority of proceedings on a rough and tricky track after overtaking holeshotter Ivan Tedesco and also Australian Chad Reed in the opening exchanges. The success gave the Floridian his 60th podium finish from 76 starts in the category, increased his career win tally to 42 and bumped Yamaha's up to 166. Stewart lapped more than half the field to give Yamaha their first win in Seattle this century.


"It was coming easy for me. I had some good lines through the whoops and once I got a lead, you know, I just kind of backed it down and just kept the gap like it was," he commented. "I felt good all day. The bike was working fantastic, really good. I knew the ruts...you know, the track was going to get technical. I was trying to just play it smart and I was able to get a good lead and make it happen after that."


Stewart's team-mate Kyle Regal completed a decent weekend for the crew by taking his best finish of the season so far with 7th position. Davi Millsaps notched another top ten by crossing the line in 8th and Tommy Hahn was the fourth YZ450F rider in the first half of the leader-board in securing 9th.


Stewart's unbeatable speed has come at a crucial time with a maximum of 50 points still left up for grabs and he lies fourth in the table behind Ryan Villopoto, Ryan Dungey and Reed, nine points adrift of first place. Behind the headline-grabbing scrap for the title Millsaps and Justin Brayton currently hold 8th and 9th for Yamaha.


For the first time this year the AMA series (also an FIM World Championship) will take a break next week before the first of two tense back-to-back meetings at Salt Lake City and then Las Vegas.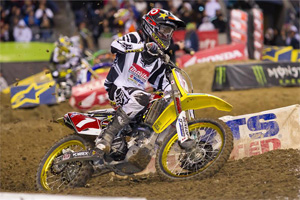 Dungey Still in Supercross Hunt

Ryan Dungey is still in the hunt to successfully defend his AMA/ FIM World Supercross crown despite finishing off the rostrum in fifth place at Saturday night's Seattle Supercross.


The Rockstar Makita Suzuki rider has dropped a position to third in the series but is still only seven points behind leader Ryan Villopoto (Kawasaki) with two rounds to run and 50 points still up for grabs.


A week of rain made for a heavily rutted, highly technical track in Seattle, but Dungey and his RM-Z adapted well and were strong all day. After scoring the third fastest time in the shortened afternoon practice, Dungey pulled the holeshot in his heat but fell back a bit to finish third. A decent start in the Main put the Rockstar Makita Suzuki rider up to sixth, but a tip-over on the first lap put him near the back and he ended up finishing the first lap in 14th place.


Dungey's RM-Z450 powered him through the tough conditions as he steadily progressed up to fifth place by lap 10. A bobble in the whoops on lap 11 put the reigning Champion back to sixth, but Dungey was able to get the position back within two laps. Dungey pushed hard for the remaining six laps and ended up crossing the line in fifth.


"All in all, it was a pretty good night," said Dungey. "I got off to a good start in my heat and ended up finishing third. My Rockstar Makita Suzuki team did a good job all day adapting the bike to the conditions. We made a few changes to my Suzuki before the Main; nothing too crazy - just a few suspension adjustments to adapt to the ruts. The track was really gnarly tonight. It 'kinda wanted to just come up and bite you, especially by the end of the 20 laps. I got off to a decent start, but I fell down in the first lap and I think I was near last. But at that point, I just put my head down and tried to pick off as many guys as I could and was able to move up and finish fifth. Everyone did a great job today. My RM-Z450 ran great and my team adapted it well to this track. Going forward, we have a two-week break and then we'll get into Salt Lake and will be ready to give it a hard push for the last two rounds."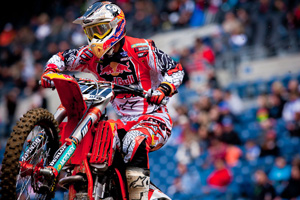 Alessi Shines at Seattle Supercross

Red Bull/KTM Factory rider Mike Alessi earned his season best finish at the Seattle Supercross when he crossed the line in 6th overall at the end of the rough twenty lap main event.


Both Alessi and his teammate Andrew Short looked strong upon arrival at Qwest Field when Short qualified 4th fastest in timed practice and Alessi was 10th. Both riders were placed in the first heat based upon their qualifying times.


It was in the heat race where Alessi first showed the Seattle crowd that he was 'Ready to Race' when he earned another signature holeshot aboard his KTM 350 SX-F. Alessi maintained the lead for the majority of the first lap before he was passed by James Stewart. Short was next to pass Alessi and moved into 2nd. Both Short and Alessi maintained their top three positions to qualify into the main event. Collectively their 2nd and 3rd place heat finishes marked the best for the duo this season.


Alessi had another decent start when the gate dropped for the main event, rounding the first corner in 6th position. He quickly moved into 4th when two riders bobbled through the whoops and continued to charge forward. On the next lap he made a pass on Kevin Windham to take 3rd and even closed in on Chad Reed for 2nd on the following lap. Alessi made a mistake in the whoops on the fourth lap and allowed Windham to get back around. Alessi maintained 4th position until the eighth lap when he got cross-rutted on a triple and went over the bars landing on the cement pad on the side of the race track. He quickly recovered only losing two positions. Two laps later, Ryan Dungey suffered a crash and allowed Alessi to regain 5th position. That position swap was short-lived when Alessi suffered another set back in the same section he crashed in earlier, this time landing off the track but safely riding it out to reenter behind Dungey once again. Once back on course, Alessi held his pace and went on to finish his best race this season with a 6th place result.


"I felt really good all day today and my bike was working great. I have really picked up my training program as I begin preparation for the longer motos outdoors and it is paying off. I am excited for the break this weekend and looking forward to spending some time at home before heading to Salt Lake City," remarked Alessi.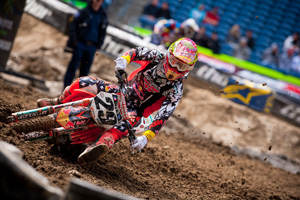 Alessi's teammate, Short, did not have the race he anticipated. Short had a great jump off the line but came together with Windham and then collided with Austin Stroupe sending both riders to the ground in the first turn. Short was slow to recover as the bike had landed on his leg in the crash and he was also left with a broken clutch lever. Despite starting approximately 40 seconds down from the leaders and without a clutch lever, he charged forward to finish 10th overall at the end of the race.


Short commented, "As bad as the main event went for me, I am actually excited about my night in Seattle. I rode great in practice and in my heat and am pleased with the progress I am making. I am not particularly found of the deep rutted courses and it was rewarding to know that I was competitive with my lap times tonight. It's unfortunate that I had some set backs in the main event but overall I am pretty happy with how I rode tonight. I am looking forward to the final two races."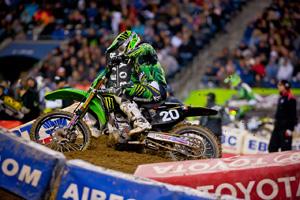 Tickle Seizes Control in Lites West

After an extended break, the AMA Supercross Lites West series resumed with an exciting race in Seattle that saw a new points leader in the form of Kawasaki racer Broc Tickle.

It wasn't so much a victory for Tickle as it was a disappointing day for former points leader Josh Hansen. Hansen suffered a broken hand just before the series went on break, but used his time off to rehab it. Everything appeared to be going well until Hansen reinjured the appendage during practice and ended up suffering severe pain all day. His sixth-place finish opened the door for Tickle to usurp the points lead, although the Kawasaki rider only managed to take third.

Cole Seely put together a dominant performance in just the second official win of his young career, while Honda competitor Eli Tomac collected third. With just a few races left in the series, it doesn't appear that Seely has much of a chance, in fourth place overall with 113 in the points standings. Tickle is at the top with 145, while Hansen is still close behind at 143. Tomac's repeated strong performances put him in third place with 138.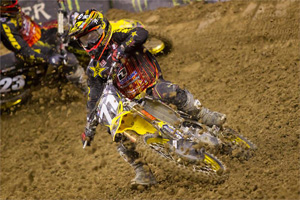 Morais 7th in Seattle Supercross Lites

The AMA Supercross series swung back west at the weekend and Team Rockstar Energy Suzuki grabbed a couple of top-10 finishes in the seventh round of the 2011 AMA/ FIM Supercross Lites West Championship on Saturday night at Qwest Field in Seattle.


Ryan Morais powered his Yoshimura-equipped Suzuki RM-Z250 to a seventh-placed finish in the 15-lap Lites Main Event as team mate Martin Davalos followed close behind in eighth on the tough and highly-technical Seattle track.


Morais started the day with his best qualifying result of the season in the afternoon timed practices and carried that momentum into his heat race with a solid fourth place aboard his Suzuki. In the Main, a good start put him in eighth place after the first lap and he was able to work his RM-Z250 up to as high as sixth over the next few laps. Morais battled throughout the remainder of the 15 laps on the heavily-rutted course to cross the line in seventh.


"Today went okay for me," said Morais. "I felt pretty good in practice; it was my best practice qualifying time of the year. The track was really technical and hard tonight and my team did a good job setting up my bike. I felt good in the Main Event and got a good start on my RM-Z. I was battling with a couple riders and the pace was good, but it kind of turned into a little cat and mouse. I wasn't able to get past sixth over the rest of the race. It was a little frustrating, but I've come out of here healthy and we have two weeks until Salt Lake City. I'm going to work hard and try to put my Suzuki on the box in these last two races. I like Salt Lake City and I feel like I'm where I need to be, so we'll see what we can do."


Davalos rode strong all day, starting with the third fastest time in the shortened afternoon practice and continuing into his heat race to bring his RM-Z across the line in fourth. A decent start in the Main put Davalos just behind Morais for nearly the entire 15 laps and the Rockstar Energy Suzuki rider used the power and handling of his RM-Z250 to negotiate the tough and technical conditions to score an eighth-place finish.


"It was a tough weekend for me," said Davalos. "I felt like I rode good but kind of got a bad start in the Main and just really couldn't get around anyone. The track was really challenging, really gnarly and rutted, but my RM-Z worked great, but I just couldn't make anything happen. The positive thing is that I'm safe and healthy and I'm 'gonna go back home and work on some starts. I need to get the start. I've never been to Salt Lake City, so I'm really looking forward to racing there. I need to put my Rockstar Energy Suzuki team on the box. We work so hard and they are so good to me."


After seven rounds, Morais sits fifth and Davalos ninth in the West Region points standings. The 2011 Rockstar Energy Suzuki team's next event is Saturday, April 30th, at Rice Eccles Stadium in Salt Lake City, Utah.


Next Event: Salt Lake City, UT - April 30, 2011

Supercross Class Results

1. James Stewart

2. Kevin Windham

3. Chad Reed

4. Ryan Villopoto

5. Ryan Dungey

6. Mike Alessi

7. Kyle Regal

8. David D Millsaps

9. Thomas Hahn

10 Andrew Short

11. Michael Byrne

12. Nicholas Wey

13. Fabien Izoird

14. Ivan Tedesco

15. Jason Thomas

16. Vince Friese

17. Tyler Bowers

18. Cole Siebler

19. Chris Blose

20. Austin Stroupe

Supercross Lites Class Results

1. Cole Seely

2. Eli Tomac

3. Broc Tickle

4. Kyle Cunningham

5. Tyla Rattray

6. Joshua Hansen

7. Ryan Morais

8. Martin Davalos

9. Travis Baker

10. Gared Steinke

11. Ben Evans

12. Topher Ingalls

13. Nick Paluzzi

14. Tommy Weeck

15. Preston Mull

16. Travis Bright

17. Donald Vawser

18. Parker Eckman

19. Brad Nauditt

20. Tevin Tapia

Overall Supercross Class Point Standings

1. Ryan Villopoto 293

2. Chad Reed 287

3. Ryan Dungey 286

4. James Stewart 284

5. Trey Canard 255

6. Andrew Short 196

7. Kevin Windham 187

8. David D Millsaps 156

9. Justin Brayton 141

10. Ivan Tedesco 134

11. Nicholas Wey 129

12. Mike Alessi 113

13. Brett Metcalfe 107

14. Chris Blose 87

15. Kyle Regal 86

16. Fabien Izoird 63

17. Michael Byrne 59

18. Austin Stroupe 55

19. Thomas Hahn 53

20. Matt Boni 48

Overall Supercross Class Point Standings

1. Broc Tickle 145

2. Joshua Hansen 143

3. Eli Tomac 138

4. Cole Seely 113

5. Ryan Morais 110

6. Tyla Rattray 96

7. Kyle Cunningham 89

8. Ken Roczen 83

9. Martin Davalos 82

10. James Decotis 67

11. Ben Evans 57

12. Nick Paluzzi 53

13. Antonio Balbi 50

14. Travis Baker 49

15. Ryan Marmont 48

16. Bruce Rutherford 38

17. Jake Canada 29

18. Gared Steinke 21

19. Casey Hinson 21

20. Scott Champion 19