Motorcycle Taxi Service To Launch In LA
Chaparral Motorsports
|
April 15, 2011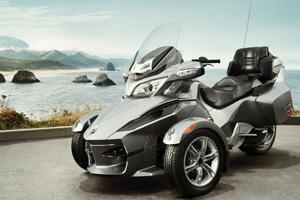 Hailing a cab in Los Angeles can be pretty tough, and even once you manage to flag one down, there's no guarantee you won't end up in gridlock a few minutes later. A new company is hoping to circumvent that issue by introducing a new idea to the U.S. - motorcycle taxi services.

The idea has been used successfully for years in Europe. Now, Moto Limos Club is reportedly launching the first motorcycle taxi service for the U.S., according to Autoblog.

The service will reportedly debut with 15 Honda Goldwings in the fleet. For riders who might not feel entirely comfortable on a two-wheeler, there will also be a number of Bombardier Can Am Spyders, although the company has not revealed precisely how many.

Unlike hailing a cab, however, the Moto Limos Club works on a membership business model. Companies or single riders will pay a fee to belong to the club, then be able to call the service when they need it.

Since it's primarily aimed a business people who need to travel around the city, riders will be provided with a Bluetooth-equipped motorcycle helmet, so they can even take important calls in transit if need be.