Yamaha World Superbike Team Arrives In Assen For Round Three Of The World Superbike Championship
Chaparral Motorsports
|
April 14, 2011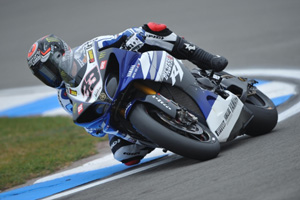 After Marco Melandri's maiden victory in WSB in round two in Donington Park, a confident Yamaha World Superbike team head to round three of the 2011 Championship in Assen. The historic TT race track has been kind to both Yamaha riders Melandri and Laverty in previous years so they both face their WSB Dutch debut this weekend with enthusiasm.


The circuit, known amongst many motorcycle fans as "The Cathedral" has undergone several renovations over the past decades. In 2006 it was shortened from it's original 7.705 metres to the current 4.555 metres and as recently as last year an interesting high speed point was added to the track. The alterations carried out have made the circuit more accessible to the public, while providing more facilities for the numerous spectators. Several of the curves and chicanes have been modified for safety reasons yet only one element of the track has remained untouched throughout the years; the finish line. The Assen TT race track still remains a very technical, twisty and fast flowing circuit, leaving little room for error while guaranteeing the spectator an adrenaline filled race weekend.


Both Yamaha World Superbike riders; Melandri and Laverty ,will be looking to accumulate valuable points this weekend. Following two successful races in round two in Donington where Melandri took first and second places, the Italian rider arrives at the third round of the championship in second position, just 19 points off front man Checa. Teammate Laverty will be looking to make up for the disappointing weekend he experienced in Donington and gain some precious points to allow him to jump up the standings from his current position in 12th.

Marco Melandri
Yamaha World Superbike Team

"I had the first race win of my career in 1998 in the 125cc Championship in Assen, so as a consequence it's a track that I quite like. I was also fortunate there in 250cc and in MotoGP in 2005 when I finished second. The track has changed since then, it's now shorter and the curves have been slightly modified, but that shouldn't be a problem. I really enjoy the last part of the track which is particularly fast flowing. Assen seems to work well with our R1 so I'm going there confident that we can do two good races. I sincerely hope that it will be warmer than Donington where the weather conditions made it difficult to ride, especially in race two. The track wasn't warm enough to use the soft tyres, yet it wasn't cold enough for hard tyres. Let's just hope we'll have better weather and a dry track!"


Eugene Laverty
Yamaha World Superbike Team

"Assen is a circuit that I really enjoy riding. I've only ridden there twice, in 2009 and 2010, winning both races so I have some good memories there. This is my first year on the track for WSB but I'm confident that I can do well again. The last round in Donington was very disappointing for me as I had two very tough races. At the beginning of the weekend the bike was working very well and we were capable of doing a good race, but that didn't quite go as planned. None-the-less, I'm coming to Assen optimistic; the team is working very hard and doing a great job and I know I can ride the track well. My position is amongst the top five and hopefully this weekend I can get back up there again."

Assen technically speaking according to Silvano Galbusera
Marco melandri's Crew Chief

"In Donington we came across a few technical issues with the bike that need working on. We are adjusting the settings at the moment to ensure we can improve on this. It's Marco's first year with us in Assen so we don't have last year's data to go by. We'll start with a basic set up, a fast yet stable bike which we know suits his style of riding, but will also suit the fast changes of directions the circuit offers. We need to concentrate on tyre life for warmer conditions than Donington. The track has relatively good grip so it usually works well for our Yamaha R1. We have always had good results and several podiums in Assen with Haga, Toseland and Spies and I'm confident we can put in a two very good races again this year."

Assen technically speaking according to Frankie Carchedi
Eugene Laverty's Crew Chief

"We are really looking forward to the weekend in Assen, our R1 has always worked pretty well on the track there. Unfortunately in Donington our bike was a little erratic due to the severe temperature changes. We are working hard to find a setting that works well in variable climate conditions, so we should have a good base set up to start with on Friday and the we'll take it from there. I'm confident we'll find an ideal solution and be back up at the front of the pack where we should be."

Andrea Dosoli
Yamaha World Superbike Team Manager

"On the historic track in Assen; I believe we can be very competitive, as we were in Donington. The team, the riders and I are all very motivated. Marco is capable of delivering impressive performances as he has done in Philip Island and Donington and closing the gap in the championship standings between himself and first position. Eugene is concentrating on obtaining the competitive results he proved to be capable of in Phillip Island. Our technical team are working hard to improve the handling of the bike in order to be more adaptable to the TT circuit. The basic set up is already pretty good but the team will work on fine tuning a few elements on Friday in advance of Sunday's races. 
Marco and Eugene will do their best to provide two spectacular races to the numerous fans and to the Yamaha Motor Europe staff attending their "home race", so close to the head office in Amsterdam."

Yamaha ParkinGO Team Prepare to Replicate Victory in Assen

Following the successful One Two victory in Donington, the Yamaha ParkinGO Team head to Assen determined to repeat their performance and continue to lead the World Supersport classification. Current Championship leader, Luca Scassa is going to the Dutch track looking for his third consecutive win of the 2011 season. The Italian rider has dominated the previous two rounds in Philip Island and Donington and now sits comfortably 19 points ahead of second place in the overall standings. Scassa is eager to get back on his YZF-R6, deliver an equally spectacular race performance this coming Sunday and continue his pursuit of the championship title. Teammate Chaz Davies was unfortunate in round one of the 2011 WSS Championship but on the British track he put in a sensational race, making up for lost points and completing the race in second. He now holds fifth position in the classification with 20 points and intends closing that gap this weekend on the historic Assen TT race track. Both riders crossed the chequered flag in Donington with a gap of over 20 seconds ahead of their fellow competitors, proving the strength and capability of the team and their 2009 winning ultra strong YZF - R6s.