Brayton Ruled Out For Seattle Due To Back Pain
Chaparral Motorsports
|
April 14, 2011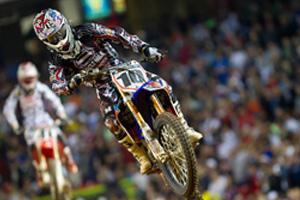 Justin Brayton has announced that he will be pulling out of this weekend's AMA Supercross race in Seattle due to back pain stemming from a prior crash.

Brayton rides a Yamaha YZ450F for the Muscle Milk/Toyota/JGRMX team, and is currently eighth overall in the point standings. It doesn't look like he'll be able to improve on that position in the remaining races, however, as his injury will keep him out of Seattle and possibly more races in the season.

At the Dallas Supercross two weeks ago, Brayton suffered a nasty crash during which he landed on his back. He checked into a local hospital, where doctors told him there was no damage to his vertebrae. Brayton was ultimately cleared to ride, as medical officials said that doing so didn't put him at risk for further injury. However, they did warm him that doing so would likely be extremely painful.

Brayton, from Iowa originally, wanted to race in St. Louis, as it's close to his home turf. However, he was only able to get a few laps in before he had to pull off, suffering from severe pain. After the race, Brayton decided to get a second opinion and found that he had actually sprained his vertebrae. He'll now undergo treatment and physical therapy, and hopes to be back in a few weeks for the race in Salt Lake City, Utah.