Pastrana Gearing Up For "Nitro Circus" Show In Vegas
Chaparral Motorsports
|
April 13, 2011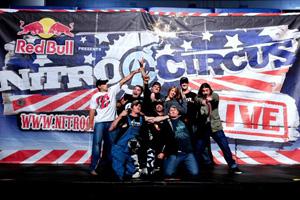 MTV's motorsports series Nitro Circus became quite popular within the motorcycle and extreme sports communities, as it featured Travis Pastrana, Andy Bell and several other big stars tearing it up around the world. However, the show was apparently canceled last year, leaving some fans disappointed.

The major players of the show are back, however, and gearing up for a live event tour. The crew has already been through Australia and New Zealand and are now planning to return to the U.S. with a massive show at the MGM Grand in Las Vegas. Pastrana will be the headliner, although Bell, Jolene Van Vugt and other big names are slated to appear as well.

"We have some incredible stunts planned for the Nitro show in Vegas which have never been performed before anywhere in the world and are unlikely to be attempted ever again," said Pastrana. "Almost 10 world firsts have been thrown down during our tours in Australia and New Zealand, and we are going to try and match that in this one-off show. You really don't want to miss it."

The show is scheduled to go down on June 4th. Further dates have yet to be announced.