SkyRoll MC: A Garment Bag For Bikers
Chaparral Motorsports
|
April 12, 2011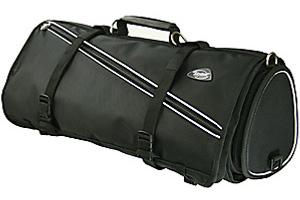 One of the great advantages of owning a motorcycle is that these bikes often get much better gas mileage than cars. With fuel prices skyrocketing above $4 per gallon in some parts of the country, many may be looking to use their bike as an alternate form of transportation.

Many riders are using their bikes to commute to work, which can definitely be a smart strategy. Not only can bikes avoid much of the early-morning traffic that piles up near some major cities, but the monthly savings on gas will likely be significant. However, riding in on a motorcycle can create some logistical problems - most notably with clothing.

That's where the SkyRoll MC comes in. The SkyRoll was originally created as a carry-on garment bag for frequent fliers. The bag comes in two parts: the garment bag, where users can lay their suits and other clothes flat to avoid wrinkles, and a hollow cylinder. The traveler packs all of their clothes into the garment bag and zips it up. The bag then wraps around the hollow cylinder, much like one would roll up a sleeping bag. Clips keep the system in place, and a shoulder strap allows travelers to maneuver it through the airport like a messenger bag.

Now, the SkyRoll MC has been designed especially for motorcycle riders. The bag is essentially the same idea, but it includes additional straps to attach to a sissy bar or various other places on the bike. There's even a rain cover in case a biker gets caught in a storm.