Rossi, Hayden, Test 1000cc Ducati
Chaparral Motorsports
|
April 12, 2011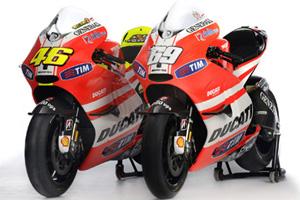 MotoGP isn't scheduled to open up the top class to 1000ccs until 2012, but fans got a glimpse of the future over the weekend, as both Nicky Hayden and Valentino Rossi of Ducati tested out the bigger bikes that they'll be using next season.

The test was particularly exciting for Hayden, as the rider has been known to race better given a larger displacement. Hayden won the championship in 2006, the last time that 990cc bikes were allowed to be used. Since MotoGP has restricted the bikes to 800cc, Hayden has not enjoyed nearly the same success.

Yet the rider appeared to be back to his old self as he tested the brand-new Ducati Desmosedici GP12 in Jerez, Spain. The GP12 has been custom-designed by Ducati's expert engineer, Filippo Preziosi. Both Rossi and Hayden were tapped in order to give Preziosi more feedback on the bike.

If the test was any indication, Hayden appears to be a fan, telling Cycle News: "Everything went well, and we didn't have a single problem. The motor is really nice to use and I had a lot of fun riding the bike."

Rossi spent slightly less time with the bike, but appeared to concur, telling the news source that "it's more enjoyable, more fun to ride. It was the first time we had it on the track, so we had some work to do, but the engine is nicer."