Mullins Wins Big Buck GNCC
Chaparral Motorsports
|
April 12, 2011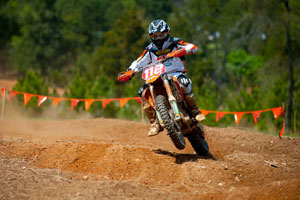 Factory FMF/KTM Team rider Charlie Mullins won his second GNCC of the season at the Big Buck GNCC held in Union, SC.


The fourth round of the series was also one of the more humid and hot races of the season. Temperatures were near the mid-eighties throughout most of the day causing many riders to fatigue earlier than usual. That was not the case for KTM's Charlie Mullins who nailed the holeshot early on in the race thanks to his electric start KTM 350 XC-F. Mullins was joined by his three FMF/KTM teammates, Russell Bobbitt, Kailub Russell and Cory Buttrick as well as Josh Strang as they headed into the woods.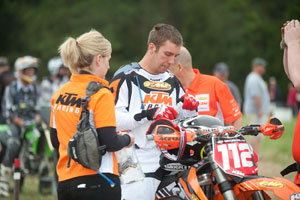 Mullins would lead the first two laps with heavy pressure from Russell. On the third lap, Mullins stalled his bike which allowed his teammate to pass and take the lead. Russell led the next lap until he pit briefly to get a sip of water and was passed through the pits by Mullins. On lap four, Mullins stretched his lead over Russell and continued to maintain a solid pace out front. Russell tired slightly in the second half of the race and lost a position to Josh Strang. Shortly after, Russell suffered two crashes, one of which lost him quite a bit of time on the lead riders.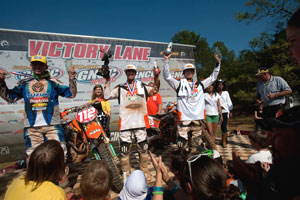 Mullins went on to take the win approximately 15 seconds ahead of Strang. Russell rebounded from his two crashes to finish 3rd overall. Buttrick and Bobbitt maintained a steady pace all day to finish 4th and 5th respectively, resulting in four of the top five bikes on the KTM brand.


In the XC2 class, KTM support rider Steward Baylor led the race early in the day. He broke his knee brace within the first few laps and had to return to the pits to take it off as it was putting unnecessary pressure on his leg. He returned to the racing action in 5th place and through a remarkable effort was able to pass through the pack and eventually retake the lead. Baylor went on to take the win, marking his second win of the season. With four races down, Baylor leads the XC2 class in overall point standings.


In the women's class, RPM/KTM rider Maria Forsberg led for the majority of the day. On the final lap she had a comfortable lead before she was held up in a ravine by some lapped riders. This allowed the second place ride of Mandy Mastin to catch up to Forsberg and pressure the reigning GNCC Champion. Forsberg proved why she holds the title after she came out on top of the battle and went on to win by approximately 10 seconds over Mastin. Forsberg holds the points lead heading to the fifth round.