Find The Perfect Touring Motorcycle
Chaparral Motorsports
|
April 12, 2011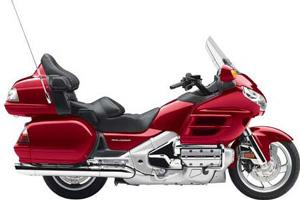 One of the major advantages of owning a motorcycle is freedom. There's nothing like hitting the open road, breathing in the fresh air and heading out to explore this great country. A road trip across America is a time-honored tradition among the motorcycle community and one that every self-respecting bike fan will want to try at least once in their lifetime. Yet in order to accomplish such a feat, travelers will need a solid bike to back them up.

This is where the touring bikes come in. While many motorcycle riders avoid cars like the plague, it's helpful to think of touring bikes as the "luxury cars" of the motorcycle world. Everything about these bikes is tuned to make long journeys as comfortable as possible, and many of the features and options available on the bike are taken directly out of the BMW/Lexus arena - things like heated seats, navigation systems and even satellite radios.

It's worth noting right off the bat that these bikes aren't exactly the epitome of style. The backs of the bike are typically built to hold luggage and other items, so they have a bulky look and feel. You won't be winning any best in show awards at motorcycle rallies - but you will be getting to said rally much more easily.

For those who plan on traveling with a partner, touring bikes are a great choice. Rather than attach a goofy-looking pod to the side of the bike, these motorcycles are built with two riders in mind. Your partner will be able to rest comfortably with their back against the bike's trunk. Touring bikes don't lose out much in the performance department when a second rider is onboard either.

Touring Motorcycle Types
[caption id="" align="alignright" width="300"]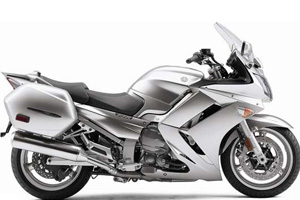 Yamaha FJR1300A[/caption]

There are two basic types of touring models: luxury tourers and performance tourers. Performance tourers may skimp on a few of the features that other touring bikes offer, and the ride will likely not be as smooth. However, these bikes will really be able to deliver the speed and acceleration that riders desire, an area where other touring models may fall short . If you're looking to "make good time" on your road trip, then you might want to consider one of these models, which can get you to your destination quickly.

On the other hand, luxury tourers espouse a slightly different philosophy. These models are all about delivering the absolute pinnacle of comfort and luxury on a motorcycle. Not only do these bikes come with numerous bells and whistles that can't really be found on any other type of motorcycle, but their engines are also tuned to deliver extremely smooth rides that won't make riders uncomfortable over several hours of riding.

So what are some of the features that riders can expect to find on their touring motorcycle? It helps to start with the basics. All bikes should come with a large windscreen, saddlebags for extra storage, a big gas tank, shaft drives, and a cushy seat. Yet this is just the tip of the iceberg when it comes to touring bike features. Through either factory options or aftermarket motorcycle accessories, many riders choose to add things like extra saddlebags for the side and tank, cup holders, cruise control, seat backs, heated grips, satellite or HD radio, stereo systems with MP3 support, GPS navigation and much, much more.

New riders should know that touring bikes probably aren't the best models to learn on. They're extra bulky because of the saddlebags, and the weight distribution isn't the easiest thing to manage, especially at slower speeds. The upright riding style can take getting used to as well, especially if riders are used to the aggressive positions of sport bikes. It's probably best to purchase a cheap standard to start. If you're planning a trip, these bikes can also be outfitted with some of the tourer features, like large windscreens.

So what are some of the best bikes to fit the type? Nearly every manufacturer makes some type of touring motorcycle, and they can be vastly different with regards to both performance and features. To help drivers make the decision a bit easier, we'll profile some of the best models available on the market today.

Honda Gold Wing
[caption id="" align="alignright" width="300"]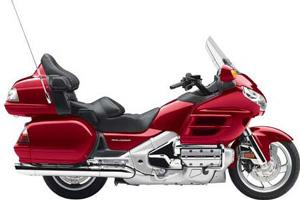 Honda Gold Wing[/caption]

Many consider the Honda Gold Wing to be the top-of-the-line model when it comes to touring bikes, and it's tough to argue with this assessment. Drivers should know that this is a serious machine and they'll be shelling out quite a bit for it - possibly more than $28,000, depending on the options. Yet it's really unbeatable when it comes to a combination of features and performance. The Japanese manufacturer completely redesigned the model for 2012, so drivers will be getting the absolute best that Honda has to offer.

The Gold Wing features a monstrous 1,832cc six-cylinder liquid-cooled engine that's sure to handle whatever you pack on top of it. In terms of features, nearly everything that a rider could think of is offered. With a premium sound system, GPS navigation, iPod integration, extra wind protection, a massive amount of storage space and much more, it's easy to compare the Gold Wing with a luxury car. Those who choose the "Airbag" model will even get the industry's first rider airbag, which could certainly end up being a useful safety feature.

Victory Vision Tour
[caption id="" align="alignright" width="300"]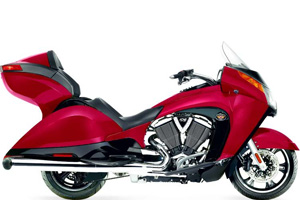 Victory Vision Tour[/caption]

Yet not every rider is going to want to shell out that much for a touring bike. This is where a model like the Victory Vision Tour comes into play. Retailing for just above $23,000, the Vision offers many of the features available on the Gold Wing with a slightly smaller, 1,731cc V-Twin engine. It's also one of the better-looking touring bikes on the road today, so if style is important, the Victory Vision can be a solid choice.

Kawasaki Vulcan 1700 Voyager
[caption id="" align="alignright" width="300"]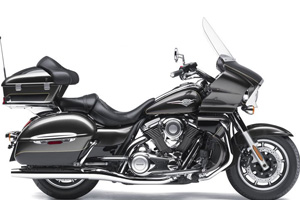 Kawasaki Vulcan 1700 Voyager[/caption]

For those who want to get in under $20,000, the $18,600 Kawasaki Vulcan 1700 Voyager is a good investment. This model matches the Victory Vision's 1,700cc V-Twin engine, while still offering riders many of the features they desire. The Voyager is great at supporting all sorts of electronic devices, with several power outlets, iPod integration and support for XM radio tuners or even CB's. It also provides excellent wind protection.

The performance tourer options are even more affordable, and provide great power and a sleeker, less bulky frame. This lighter frame means that the bikes will zip along even while the engines are slightly smaller. It's unlikely you'll be fitting two riders on here comfortably, but these bikes do offer a smooth and fast ride.

Kawasaki Concours and Yamaha FJR1300A
[caption id="" align="alignright" width="300"]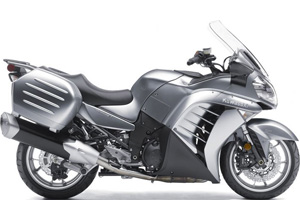 Kawasaki Concours[/caption]

The Kawasaki Concours and Yamaha FJR1300A are two good examples of these "sport tourer" models. Both retail for about $15,500. You'll be giving up some of the luxury elements available on the more expensive models, but the basic touring considerations are still here, including saddlebags for storage space and a big windscreen to make riding easier.

There are many different ways to go when choosing a touring motorcycle, but all of are ultimately aiming for the same goal: making that cross-country trip just that much better.