2011 St Louis AMA Supercross Results
Chaparral Motorsports
|
April 12, 2011
2011 AMA / FIM World Championship Supercross series round 14, St Louis, Missouri race results/recap: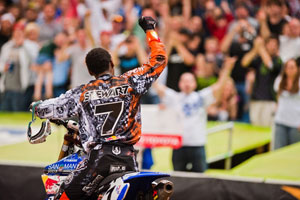 Stewart Celebrates Fourth Win of 2011 in St Louis

San Manuel Yamaha's James Stewart roared back to the top of the AMA Supercross podium last Saturday at the Edward Jones Dome in St Louis and ended a winless streak of eight races. The fourteenth round of the series (also an FIM World Championship) saw Stewart looking to recapture some edge and get on the box for the first time since obtaining a runner-up position in Indianapolis a month ago.


In front of almost 60,000 spectators the Floridian quickly overtook holeshotter Ivan Tedesco and never looked back, wheeling away to notch Yamaha's seventh victory in St Louis in what was the sixteenth main event held in the city. It was the fourth triumph of the season for the former champion.


"Man, I was more emotional there than winning the championship. For me, it was just everything," said Stewart who shed tears during the prize giving ceremony after several weeks of adversity and misfortune. "I guess the last eight weeks just started coming out of me and I just couldn't hold it in. I was trying to. It was just special. When you can't do right on or off the track, having my sponsors say, 'we still stick behind you even after some losses,' and the fans still cheering and all that; I just think it was special. And, for me, it was super-emotional."


JGR Yamaha's Davi Millsaps and Valli Motorsports Austin Stroupe broke into the top ten on their YZ450Fs with seventh and ninth positions respectively. In the penultimate round of the East Coast Lites Ryan Sipes took his YZ250F to second place to further consolidate his third place in the series points table.


In terms of the SX championship standings Stewart is fourth and sixteen points behind leader Ryan Villopoto who filled the bottom step of the rostrum in St Louis. With visits to Seattle, Salt Lake City and Las Vegas still to come Stewart retains a mathematical chance of lifting the 2011 crown. Millsaps is eighth, just in front of Brayton, with Nick Wey eleventh.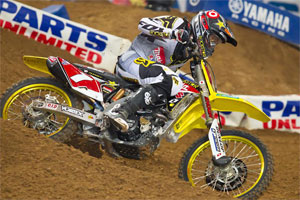 Dungey 2nd in Supercross Title Hunt

Ryan Dungey has moved to second place in the AMA/ FIM World Supercross Championship after racing to second place in Saturday night's 14th round at Edwards Jones Dome in St. Louis.


Rockstar Makita Suzuki's defending Champion and his RM-Z450 are now just five points away from the leader Ryan Villopoto (Kawasaki) with three more rounds to go; and 75 points up for grabs.


Dungey and his Suzuki were strong all day in front of a crowd of almost 60,000. After scoring the fifth fastest time in the afternoon timed practice, Dungey pulled the holeshot and walked away with the win in his heat race. Another great start on his RM-Z in the Main put him in second place going into the first turn. After a bit of shuffling, he dropped one position in the first lap but was able to power his way back to second by lap three.

"I think that all in all, it was a pretty good day," said Dungey. "Practice went really well. We were fighting a few areas, but my whole Rockstar Makita Suzuki team went to work and made a few changes that made me really comfortable out there on the track. My Suzuki got me off to a great start in my heat race and I was able to get the holeshot and come away with a win. That helped a lot and gave me a good gate pick going into the Main Event.

"I got another good start, which put me in second. I got passed and put into third but was able to get back to second in the next lap. I'm really thankful for a second on the night. I'm focusing on just being really consistent and smart. A big thanks to my Rockstar Makita Suzuki team and the Yoshimura guys - They all have done a great job. We're heading to Seattle next week and I'm looking forward to that one. I really enjoy going there. The dirt is a little different in Seattle; a little more sandy and usually will rut up and deteriorate a bit. I look forward to getting there next week and putting in another solid ride."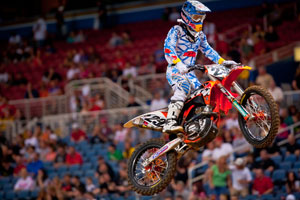 Short Earns 10th at St. Louis Supercross

Red Bull/KTM Factory Team rider Andrew Short earned 10th overall at the fourteenth round of the AMA Supercross Series in St. Louis, MO.

Short had a decent day qualifying 7th fastest in practice times and qualifying 5th in his heat race. His teammate, Mike Alessi, qualified in 6th place behind Short to put his KTM 350 SX-F into the main.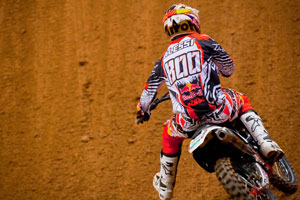 In the main event, both Short and Alessi struggled off the start and began the race near the tail end of the pack. At the end of lap two, Short was sitting in 14th and Alessi was 17th. By the end of the race Short was able to fight his way into the top ten to finish 10th overall. Alessi suffered a crash late in the race and recovered to earn 16th.

"I was bummed that I couldn't have been closer to the top five tonight. Unfortunately, I got a bad start and it's very hard to climb through the pack with the level of competition we have this year. I will continue to work on my starts and hope for a better result next weekend," remarked Short.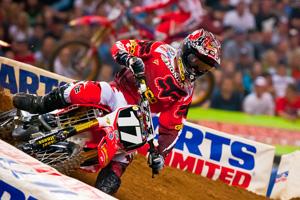 Barcia Nearly Clinches Championship With St. Louis Win

With some strong racing in the AMA Supercross Lites class, Justin Barcia appears to have all but won the East Lites championship, with just one race to go.

Going into the St. Louis race, the championship appeared to be a duel between Barcia and Kawasaki rider Dean Wilson. Yet the two ended up having very different races on Sunday, which pretty much sealed the championship for Barcia.

Barcia got the holeshot early, but didn't lead wire to wire. The early laps were a hotly-contested race between Barcia and Yamaha rider Ryan Sipes. Sipes was able to pass Barcia and take the lead, but Barcia won it back. The two traded the top spot a few more times before Barcia pulled ahead for good on the fourth lap.

Wilson, meanwhile, was never able to seriously get things going, remaining well behind Barcia, Sipes and third-place rider Blake Baggett. Wilson ultimately placed fourth - not a bad showing by any means, but not what he needed to close the gap on Barcia with one race to go.

The final race for the East Lites championship will be a combined contest with the West division. With a twenty-point lead over Wilson, Barcia essentially just needs to stay on the track and avoid crashing to ensure himself the championship.


Next Event - April 16, 2011 - Seattle, WA, Seattle's Qwest Field

Supercross Class Results

1. James Stewart

2. Ryan Dungey

3. Ryan Villopoto

4. Chad Reed

5. Trey Canard

6. Kevin Windham

7. David D Millsaps

8. Ivan Tedesco

9. Austin Stroupe

10. Andrew Short

11. Thomas Hahn

12. Chris Blose

13. Nicholas Wey

14. Kyle Regal

15. Michael Byrne

16. Robert Kiniry

17. Mike Alessi

20. Weston Peick

Overall Supercross Class Point Standings

1. Ryan Villopoto 275

2. Ryan Dungey 270

3. Chad Reed 267

4. James Stewart 259

5. Trey Canard 255

6. Andrew Short 185

7. Kevin Windham 165

8. David D Millsaps 143

9. Justin Brayton 141

10. Ivan Tedesco 127

11. Nicholas Wey 120

12. Brett Metcalfe 107

13. Mike Alessi 98

14. Chris Blose 85

15. Kyle Regal 72

16. Fabien Izoird 55

17. Austin Stroupe 54

20. Kyle Chisholm 46

21. Weston Peick 45

22. Thomas Hahn 41

27. Vince Friese 12

36. Jeff Alessi 3

37. Antonio Balbi 2