2011 Monster Energy Yamaha MX Team Launch
Chaparral Motorsports
|
April 12, 2011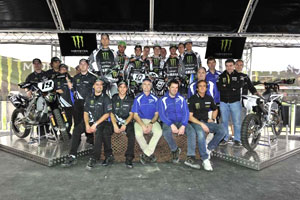 In front of a busy and curious crowd at the Monster Energy hospitality unit within the Sevlievo circuit today - scene of the Grand Prix of Bulgaria and the first round of the FIM MX-GP World Championship - the six riders and brand new 2011 race motorcycles of the Monster Energy Yamaha team were unveiled.

Media and invited guests were not the only ones able to enjoy the unique opportunity to see the colours and machinery of the team being presented in public for the first time this year as the event was also the subject of a live webcast on www.yamaha-racing.com. The official website now carries images of the team launch as well as some atmospheric shots of the stars and bikes and a fantastically aesthetic short film, that can be seen.

Monster Energy Yamaha consist of a three rider 'attack' on each class with David Philippaerts, Steven Frossard and Anthony Boissière spearheading the MX1-GP effort and Gautier Paulin, Harri Kullas and Christophe Charlier doing the business in MX2-GP.

Head of Yamaha Rinaldi Research and Development (YRRD) Michele Rinaldi was able to explain some of the differences to the world championship 'weaponry' for 2011. Philippaerts (Italian, 27 years old) and Frossard (French, 23 years) will steer the latest version of the YZ450FM now in its second year of development and with several modifications to the powerful fuel-injected engine of the twice-GP winning unit of 2010 and a different suspension system has also been employed. Boissière is equipped with the '10 model but uses a set of upgrades. In MX2-GP Gautier Paulin fields a completely revised YZ250FM prototype engine, a new carbon fuel tank and fuel injection. Kullas and Charlier retain the use of YZ250FM 2010 engine technology with mods for the 2011 season.

"We have certainly been busy over the last eighteen months starting from the production machines," explained Rinaldi. "We have been able to progress with the excellent base of the YZ450FM for 2011 and have taken a step in MX2-GP including fuel injection and other changes to the YZ250FM. The performance of modern motocross motorcycle is now at a very high point but we continue to work to focus on important areas, such as maintaining and improving performance while keeping the noise levels low. I have been in the sport all my life but with riders like we have and the huge effort made by the YRRD staff it is exciting to be here starting another season and I'm looking forward to seeing our potential."

"Our team is very young and this is just our second year in the world championship," said Giacomo Gariboldi of his framework that will run Boissière, Kullas and Charlier "but I am delighted that we have been able to show that we belong at this level and Yamaha Motor Europe can believe in us and our role in this impressive set-up. In my opinion we have two of the most exciting youngsters in MX2-GP and with Anthony we take our first steps into MX1-GP. I want to thank our partners for helping us reach a day like today."

"It is a real pleasure to be able to show off the team in this way particularly with the increased role our sponsor Monster Energy now have in their commitment to the world championship," commented Yamaha Motor Europe Racing Manager Laurens Klein Koerkamp. "Yamaha Motor Europe and YRRD have again taken a very proactive role in the development of Yamaha's technology in the motocross programme with the aim of continuing the company's strong presence in both key categories. We have world championship contenders in each class and I am very confident of a prosperous season ahead."