FIM Announces Application Process For 2012 MotoGP Season
Chaparral Motorsports
|
April 7, 2011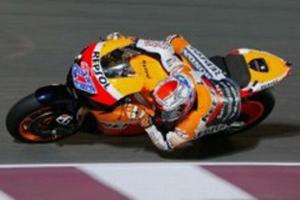 This season marks the end of an era for MotoGP, as race organizers FIM have announced that the main class will be upping the ante to 1000ccs in 2012. With those changes comes renewed interest from several manufacturers, meaning that the field of 17 riders could also be widening next season as well.

FIM has now announced that application process for new teams in 2012. Previously, the organizers have balked at expanding beyond 17 riders, despite fans' demand for a larger set of racers, but it looks like a bigger field for 2012 will become a reality. Major manufacturers that are expected to show interest in joining MotoGP include BMW, Aprilia and several smaller companies.

Friday, April 29th, marks the first day of racing for the Portuguese Grand Prix in Estoril, and this will be the first deadline for teams to make their interest known. No formal paperwork is required as of yet, but the teams must notify MotoGP of their interest so they can be sent a package with all the details. Two weeks later, an official application is due, which will include the information requested in the package.

Organizers will take the next month to decide upon "accepted, pending or rejected" status for these teams. The final step is for those teams accepted into MotoGP to pay a security deposit by June 3rd, the Friday of Spain's Catalunya Grand Prix. FIM will then reveal the accepted teams at that time.