2011 Lone Star National Enduro Results
Chaparral Motorsports
|
April 5, 2011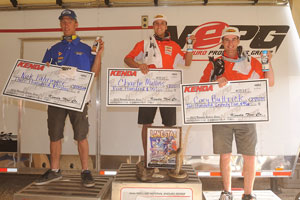 Mullins Wins Lone Star National Enduro
Factory FMF/KTM Team rider Charlie Mullins won the third round of the AMA National Enduro Series held in Kalgary, TX, marking his first win of the 2011 season.


The conditions were the toughest of the season as the riders traversed the dry, hard-packed and rocky Texas soil. The temperatures were in the mid-nineties with high winds.
Mullins, the reigning Champion, started well taking the win in the first test section. Mullins was followed closely by his teammates Cory Buttrick and Russell Bobbitt as well as Husaberg riders Mike Lafferty and Nick Fahringer.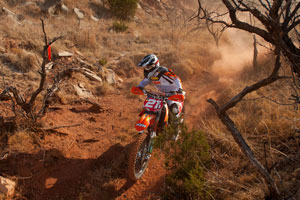 Mullins, who was struggling with the stomach flu throughout the day, was happy to start off strong. "I was glad to get the win in the first section. I also had a pretty decent run in the second test and just came up a little short behind Fahringer," commented Mullins. "In the third test I got held up by a lapper that fell in front of me and I couldn't pass in the tight section so I had to wait for him to get going again. It's just part of racing, but I did lose quite a bit of time in that section."


Mullins was able to pull it together in the final three tests, turning the fastest time in all three sections. After winning four of the six special tests he was able to ride away with the win. Husaberg's Nick Fahringer finished 2nd overall while Buttrick and Bobbitt finished 3rd and 4th respectively.


Now three rounds into the series, the FMF/KTM Team holds the top three positions in overall points. Bobbitt holds the points lead with two wins, Mullins is currently in 2nd with one win and Buttrick is 3rd in the overall standings.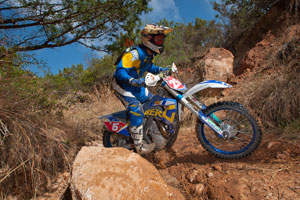 Nick Fahringer Earns 2nd at Lone Star National Enduro

Husaberg Factory rider Nick Fahringer earned his career best finish with a 2nd place result at the third round of the AMA National Enduro Series held in Kalgary, TX.


The Lone Star Enduro was the most demanding of the three rounds raced this season. The temperatures were in the mid-nineties with high-winds. Riders described the course as hard-packed, very dry and rocky.


Fahringer and his teammate, eight-time National Enduro Champion, Mike Lafferty, started the day off well turning top five times in the first test. The second test was made for the Husaberg riders as Fahringer took the win and Lafferty finished in 2nd just 6 seconds behind him. "I felt great all day. The course was very hard-packed which made it quite slippery but my Husaberg seemed to hook up well all day," stated Fahringer.


Fahringer placed 3rd in the next two tests, while Lafferty was able to put together two more solid 2nd place results in test three and four. At the start of the fifth test, both Lafferty and Fahringer were sitting in great position to fight for the win alongside KTM's Charlie Mullins.


In the fifth test, Lafferty encountered mechanical problems which caused him to withdraw from the race. His teammate, Fahringer, continued to push forward and finished the fifth test in 6th position. "The fifth test was a short, fast section. They took part of a GP course from an earlier race and ran us through that section," commented Fahringer. "I rode pretty decent in the section but didn't quite have the speed that Mullins did through it and I lost some valuable seconds."


Fahringer redeemed himself in the final test earning another 2nd place time behind event winner, Charlie Mullins. Fahringer's consistent performance throughout the day put him in 2nd overall for the race resulting in Fahringer's best career National Enduro finish.


"It feels great to get on the podium and to finish 2nd overall today. I am bummed that my teammate suffered from some problems and hope to see him back up front at the next round."

Overall Results:

1. Charlie Mullins (55:23)

2. Nick Fahringer (55:42)

3. Cory Buttrick (56:34)

4. Russell Bobbitt (58:18)

5. Cole Kirkpatrick (59:16)

6. Brad Bakken (60:44)

7. Andrew Delong (62:10)

8. Shane Hufford (62:18)

9. Cody Schafer (66:01)

10. Morgan Moss (67:33)

Overall Point Standings:

1. Russell Bobbitt - 78

2. Charlie Mullins - 70

3. Cory Buttrick - 60

4. Nick Fahringer - 57

5. Brad Bakken - 55

6. Shane Hufford - 37

7. Mike Lafferty - 35

8. Thad Duvall - 29

9. Cole Kirkpatrick - 27

10. Andrew Delong - 27