2011 Arlington AMA Supercross Results
Chaparral Motorsports
|
April 4, 2011
2011 AMA / FIM World Championship Supercross series round 13, Arlington, Texas race results/recap: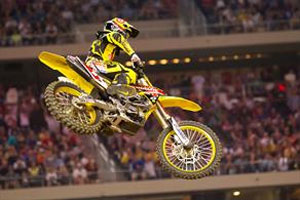 Dungey closes SX Series Gap

Defending AMA/ FIM Supercross Champion Ryan Dungey has closed the points gap right up in the race for the 2011 title after racing to third place in Saturday night's 13th round
in Arlington, Texas.


The Rockstar Makita Suzuki rider sits just one point behind second-placed Chad Reed (Honda) and seven behind series leader Ryan Villopoto (Kawasaki) with four rounds remaining
and a total of 100 points still up for grabs.


He gated fifth in the 20-lap Main Event - held in front of a crowd of 51,000 - moved into second, but fell back to third when he clipped a lapped rider and crashed.


Dungey and his RM-Z450 were strong all day on the tough and technical Arlington track, scoring the fourth best time in the afternoon qualifying and grabbing a second-place
finish in his heat race. In the Main, he rode hard but consistent and was able to work his way into second by lap nine before a tangle with a lapped rider on lap 11 put him back
to third. Dungey pushed hard for the remaining nine laps and was able to catch back up to the second-place rider but fell just short of making the pass.


"All in all, it was a good day," said Dungey. "My whole Rockstar Makita Suzuki team and I worked really good together and they did a great job with my Suzuki tonight. The track
was tough; especially the whoop sections were really big and technical. I got off to a good start in the Main and was able to work my way up to second in like the tenth lap, but
then a couple of laps later I came up on a lapper and just misjudged what he was gonna do and went down. I got back up in third and made a hard charge for second and got close
but just came up a little short. All in all, I felt great and my RM-Z felt great too. I'm looking forward to St. Louis. It's always a tough track; tacky and technical. We got a
win there last year so it would be good to go back there and get another win."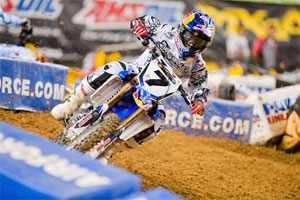 Arlington sees Stewart 4th and holding onto title shot

The thirteenth round of seventeen in the 2011 AMA Supercross series (also an FIM World Championship), saw San Manuel Yamaha's James Stewart overcome a difficult week and also an
off-track excursion through a tricky whoops section in Dallas to post fourth position.


The Cowboys Stadium saw over 51,000 spectators take-in the latest instalment of the most unpredictable and utterly-engrossing AMA title chase in recent memory. Stewart was
tussling for second place on his YZ450F midway through the Main Event when he lost control through the whoops and clattered into Chad Reed. Both riders were able to remount and
Stewart regained composure to score his second consecutive fourth position in a row.


"There have just been some unfortunate incidents here and there, just with the racing; Jacksonville, Daytona, Atlanta... You know, it's definitely been tough, for sure, but like
I said, I think the positive is that I've been riding good, and we'll just keep fighting," said Stewart.


"My thing wasn't a blatant take-out, so I can't really fix that, you know?" he said regarding the run-in with Reed. "I swapped through the whoops and thank god he was there
because I would probably have been eating popcorn in the stands."


"With everything that happened I was still here this weekend trying my best," he summarized. "And again, things didn't go right in the race but I'll be there next week and will
keep it going."


Thomas Hahn recorded his best finish of the season with seventh on the Motoconcepts Yamaha and Austin Stroupe also made it into the top ten with ninth.


Although he has gone three rounds without a podium celebration, Stewart still retains a slim chance of the championship with just a 21 point deficit to Ryan Villopoto at the top
of the table and maximum of 100 left to win. Justin Brayton is eighth and Davi Millsaps ninth.


In the penultimate round of the East Coast Lites series Ryan Sipes led the field on his YZ250F and battled with points-leader Justin Barcia. Some tough moves between the pair
finally ended up with Sipes on the floor and unable to restart. The DNA Shred Stix Star Racing rider is still 3rd in the standings with just one meeting remaining.


Visits to St Louis, Seattle, Salt Lake City and Las Vegas will take place in the coming weeks as the indoor spectacle draws to a close. The Edward Jones Dome in Missouri is next
this coming Saturday.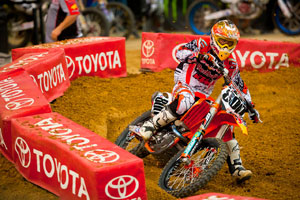 Red Bull/KTM Riders Earn Top Ten Finishes at Arlington Supercross

Red Bull/KTM Team riders Andrew Short and Mike Alessi both earned top ten finishes at the thirteenth round of the AMA Supercross Series held at the Cowboy Stadium in Arlington,
TX.


Team rider Mike Alessi nailed the holeshot in the main event aboard his 350 SX-F. After earning multiple holeshots this season on his 350 SX-F Alessi's bike was randomly chosen
for a tear-down after the race. After careful evaluation the AMA concluded that Alessi's bike was indeed legal and he has been pulling multiple holeshots on his appropriately
bored 350cc KTM.


Alessi's teammate, Andrew Short, was not as fortunate off the start and had to fight his way up from a mid-pack beginning. "I haven't been getting off the line quick enough. I
am determined to study my starts and work on my initial jump as I know the bike is capable of getting the holeshot because I see my teammate do it all the time," commented
Short.


Just as he did in his heat, Short worked his way quickly up through the pack. From his 12th place start, he quickly moved into the top ten and by the end of the first lap was
sitting in 8th. On the second lap, Short moved around Austin Stroupe to take over 7th position. He worked away closing the gap toward the top six riders for the next few laps.
On the ninth lap, James Stewart and Chad Reed crashed together and Short was able to pick off one of their positions. He remained in 6th position for the remainder of the race
earning valuable points toward the title chase.


Alessi, who had earned the holeshot, struggled throughout the middle of the race but came back strong near the tail end of the twenty lap main. "A lot of riders went down
tonight and I was able to capitalize on their mistakes by remaining smooth and consistent," remarked Alessi. When the checkered flag flew, Alessi had worked his way up from a
low of 14th position to 10th overall.

Supercross Results:

1. Trey Canard

2. Ryan Villopoto

3. Ryan Dungey

4. James Stewart

5. Kevin Windham

6. Andrew Short

7. Tommy Hahn

8. Chad Reed

9. Austin Stroupe

10. Mike Alessi

11. Weston Peick

12. Fabien Izoird

13. Chris Blose

14. Michael Byrne

15. Ivan Tedesco

16. Kyle Regal

17. Justin Brayton

18. Nick Wey

19. Cole Seely

20. Davi Millsaps

Supercross Point Standings:

1. Ryan Villopoto - 255

2. Chad Reed - 249

3. Ryan Dungey - 248

4. Trey Canard - 239

5. James Stewart - 234

6. Andrew Short - 174

7. Kevin Windham - 150

8. Justin Brayton - 141

9. Davi Millsaps - 128

10. Ivan Tedesco - 114