Lorenzo Delivers A Master Class In Wet Riding To Claim Victory In Spain
Chaparral Motorsports
|
April 3, 2011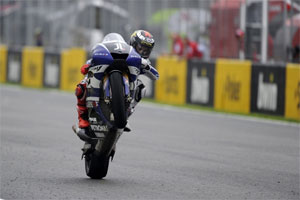 Yamaha Factory Racing rider Jorge Lorenzo used his M1 to deliver a master class in wet riding today, delivering a flawless performance to take victory in front of his home crowd at Jerez. The second race of the 2011 MotoGP Championship was played out on treacherous track conditions that claimed a number of victims over the 27 laps. Slipping comfortably into second in the first lap Lorenzo stayed in contention in the top three for several laps, keeping calm and graduating to first position as rivals Stoner, Rossi and Simoncelli all crashed out of contention. A steady rhythm and inch perfect lines finally saw the reigning World Champion take the chequered flag, his first ever professional race career win in the wet.


Team mate Ben Spies was denied his first MotoGP podium as a factory rider with just three laps remaining of the race. Having initially dropped to sixth from the start grid Spies' riding style was on a par with Lorenzo, laying down smooth consistent laps on a track that was wet in some places and drying in others. Having gained half a second a lap on second place man Pedrosa he caught and passed him, raising the possibility of a Yamaha one two on the podium. Disaster then struck on turn five as slippery conditions and worn race tyres brought the Texan's race to a premature end, losing the front and sliding off the track.


Lorenzo's victory propels him to the top of the MotoGP Championship standings with a tally of 45 points, nine points clear of Pedrosa in second. Spies heads to the next round in Estoril in four weeks time having dropped to 12th in the standings with ten points and looking to make up for today's disappointment.

Jorge Lorenzo
Position 1st - Time 50'49.046

"It has been one of my most patience races. It's a great victory, which we needed and I feel so good. This is also the first time I have won in wet conditions, the first time ever! Now we are working to improve our bike, taking as much points as possible on the way. The King of Spain said to me that he would bring me good luck after our meeting last February in Madrid, he was right! With the competition so high this year I never imagined I would be leader after two races. I am so happy to have won this weekend, especially as my friends from Yamaha Indonesia came all the way here to support us; 'Semakin di Depan' means 'One Step Ahead' which was true today!"

Ben Spies
Position DNF

"I don't think of it as a race today, it was more attrition. Once we moved into fourth behind Nicky I knew I could get past so just waited for the right moment. Dani was only a few seconds ahead of me and I thought for sure we could get on the podium. I slowly started to catch him, Jorge was obviously going to win but we could go one two. I put it all out there and caught Dani. As soon as I passed him I knew that we had second place under control, he wouldn't be able to get back by but I needed to not make any mistakes. Every corner after I passed him I slowed down, taking it easy then all of a sudden I was on the floor. Obviously it was my mistake, but looking at the data I was going slower than I had all race. It was one of those things; I think the tyres were the limiting factor today. I think it was a great show for the crowd though!"

Wilco Zeelenberg
Yamaha Factory Racing Team Manager

"A fantastic result and a fantastic race, it was very, very hard for the rider but he brought it home safely and under control; the best scenario that we could have imagined. I feel sorry for Ben, a one and two finish would have been really nice but unfortunately he went off, let's see for the next race. For Jorge leading the Championship after two rounds as we did last year and with the competition we have at the moment is a dream. We're looking forward to the next round at Estoril which is a favourite track for him too."

Massimo Meregalli
Yamaha Factory Racing Team Director

"It could have been a perfect weekend, unfortunately for a little crash it wasn't. Jorge gave an impressive race, he showed his maturity; he thought through his tactics and deserved the race win. Ben was also clever, waiting and taking his time to get to second. Unfortunately in the wet like this a little mistake can compromise a race. I'm sorry for him with just two laps to go he deserved the podium. The team has worked very hard this weekend on both sides of the garage to deliver very competitive set ups for both riders, a great performance by the crews. For sure we go to Estoril with a good motivation, it's a good circuit for Yamaha, and a good circuit for Jorge so we go with good prospects."

Edwards and Crutchlow fight for podium in Jerez thriller

Monster Yamaha Tech 3 Team riders Colin Edwards and Cal Crutchlow both mounted a brilliant challenge for the podium in an incident-packed and dramatic Spanish MotoGP race at the Jerez circuit in Spain today.


The 27-lap race got underway under grey and gloomy skies and conditions proved to be some of the most challenging imaginable as light rain fell throughout a pulsating encounter, the conditions though contributing to a memorable afternoon for a crowd of close to 125,000 fans.


Despite only having 20-minutes of wet track time on his Monster Yamaha Tech 3 YZR-M1 before the start of the race, Crutchlow thrived in the tricky conditions and on lap 12 he moved into fifth position in a crash-strewn opening half to the race.. Sensing he could fight for a sensational maiden podium, Crutchlow launched a terrific pursuit of Nicky Hayden and was less than two seconds behind the American when he crashed at Turn 9 on lap 20.


Crutchlow was able to remount and still finish ahead of Toni Elias, John Hopkins, Andrea Dovizioso and Loris Capirossi to claim his first MotoGP top ten with a superb eighth position.


Crutchlow's fall moved team-mate Edwards into fifth position and the American produced a stunning series of fast laps to hunt down compatriot Hayden. With Ben Spies tumbling out of second on lap 25, Edwards seized third place just moments later and looked certain to claim his first podium since the 2009 British Grand Prix at Donington Park when he suffered late heartache.


Having caught and passed Hayden, Edwards had quickly opened up a 2.5s advantage at the start of the last lap when he was forced off the track at the first corner by a minor technical issue and had to retire.

Cal Crutchlow
Position 8th - Time +1'19.110

"I never thought I'd crash in MotoGP and still get a top ten 10! That was an unbelievable race and not one of the easiest I've had in my career. The conditions were so unpredictable that it was hard to get any grip and I was having lots of moments with the front and rear tyre, but so was everybody else. I could see people were making mistakes but I just tried to keep my head. When I got into fifth I felt pretty comfortable though I wanted it to rain again because the tyres were wearing pretty fast. I was gaining on Nicky really quick and he was in fourth, so there's no doubt the way I was catching him that I was thinking about a podium. I've nothing to lose so I was pushing and I went down at Turn 9. I actually lost the rear but then pushed the front and I was down. I'm not going to be too hard on myself crashing when I was battling for a podium in MotoGP. I'm happy because before this morning I'd never tried the bike in the rain, so to be where I was is a good sign. I was in the top ten in the wet and dry on a track I'd never seen before Thursday, so I'm making good progress."

Colin Edwards
Position DNF

"That's pretty tough to take because getting a podium in MotoGP is not something you get chance to get every week. The race was unbelievable because it was all about who could keep it on two wheels the longest. I was quite a way back at one stage but just didn't want to do anything stupid and crash and I just felt more and more confident to push. Nicky came back to me really quickly and I knew I'd have no problem passing him because he was in trouble with his tyres. I didn't have a lot more grip but I pulled away from him and the podium was right in front of me. The bike didn't feel great coming out of the last corner to start the last lap and by the time I got to the first corner it just stopped. Obviously I'm disappointed but I can't change what happened. I wanted that podium for my guys at Monster Yamaha Tech 3 because they are awesome. But we move on and try to bounce back at Estoril."

Herve Poncharal
Monster Yamaha Tech3 Team Manager

"That was an incredible race today. We knew in those conditions it would be very hectic, but I never thought so much would go on during the race. Cal and Colin started well and pushed hard and halfway through they were both inside the top six. With more crashes we were getting nearer and nearer to the front and we started to dream of a podium but then Cal unfortunately crashed. It was a mistake and it was a pity as he could have had a really strong result in just his second race as a rookie in the World Championship. But the good point was that he picked up the bike and continued to push hard to finish eighth. I am really upset and sorry for what happened to Colin. He was one of the fastest guys out there and once Ben crashed he got third and he was easily quicker than Nicky. Unfortunately a technical problem didn't allow him to finish the race. This is really a pity as I think it would have been a very strong result for the team. Colin did not deserve that as he rode a really strong race, but that's racing. But I feel a bit bitter about how he was denied through no fault of his own."