Maxxcross EN Off-Road Tires Provide Great Traction In Off-road Conditions
Chaparral Motorsports
|
March 31, 2011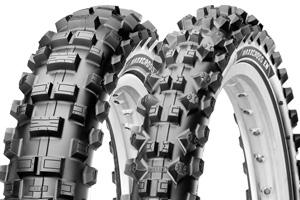 Professional racers know that a bike is only as good as the motorcycle tires that a rider has selected, and choosing the right set can give competitors the edge they need come race day. With that in mind, off-road racers may want to consider a new set of dirt bike tires released by Maxxis.

The Maxxcross EN Off-Road Tires can fit a variety of popular dirt bike models and are available in both 140/80-18 and 90/90-21. Maxxis has made a number of design choices on these tires that it says will give the rider the confidence they need to claim victory.

For starters, the rear tread pattern features widely spaced knobs that really allow a rider to maintain control in loose or intermediate conditions. This pattern is designed to achieve aggressive traction when the moment calls for it, but it can also shake off mud or whatever else you can throw at it.

Another feature of the tires are the shoulder knobs, which is something that racers who like to corner should appreciate. These angled outcroppings ensure that a rider will remain in control even when taking a corner at high speed.

With a tuned-up bike and a new set of these tires, off-road racers should have everything they need to get to the podium.