Honda's CBR250R Offers The Benefits Of A Scooter In Bike Form
Chaparral Motorsports
|
March 31, 2011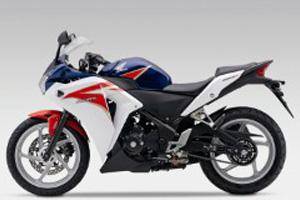 Honda's recent launch of the new CBR250R gives sport bike riders who can't handle all the power of a CBR1000RR the opportunity to ride a motorcycle that looks great and performs well without shelling out big bucks.

Yet while the motorcycle community will likely create quite a few CBR250R fans, the Wall Street Journal believes that the CBR250R could actually appeal to consumers who weren't previously interested in motorcycles at all. Scooters have become popular in major cities and suburbs because they're cheap, easy to maneuver and park and get great gas mileage.

Those are all features that the CBR250R knocks out of the park. It retails for approximately $4,000 and typically runs greater than 60 miles on one gallon of gas. There's also no denying that the bike is stylish, taking its cues from the $14,000 CBR1000RR. Those who don't know any better would likely look at the bike and assume the rider was pretty serious about motorcycling - even though it's typically classified as a beginner's bike.

Time will tell if the CBR250R ends up having the crossover appeal that the news source predicts it will. For now, Honda's sights are likely set on outselling the Ninja 250R - a bike that's typically thought of as the king of the small bike segment.