Can-Am Team Dominates Steele Creek
Chaparral Motorsports
|
March 31, 2011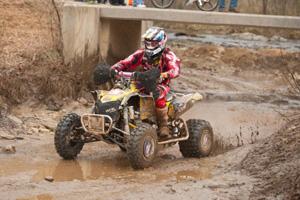 The FMF Steele Creek General GNCC is in the books, and Adam McGill was able to give Can-Am the win in a thrilling race that also saw his teammate Chris Bithell take second.

McGill and Bithell started strong, but really cemented their position out in front when they elected not to pit on the second lap. It wasn't until near the end of the nearly two-hour race that anyone really mounted a serious challenge against the Can-Am teammates. Eventually, overall points leader Chris Borich of Suzuki and Yamaha's Taylor Kiser were able to catch up to the duo.

In fact, at one point many thought Borich was going to cap a thrilling comeback with first place on the podium. The rider was able to pass both McGill and Bithell to take first, but his luck ran out shortly thereafter when his ATV slowed down after passing the two riders.

A little bit of strategy paid off for the teammates. Bithell began having brake troubles toward the end of the race, so he let McGill pass, knowing he had a better chance to catch Borich. When Borich began to slow down, McGill was in perfect position to take the win, and Bithell was able to snag second as well. Had Bithell held McGill off, they may have both lost the race.