Team Husqvarna Has Winning Weekend In The Woods And In The Desert
Chaparral Motorsports
|
March 29, 2011
Thomas Takes XC2 Win, Kirssi & Moss In Top 10 At GNCC; Burson Busts Out Another D37 Win Out West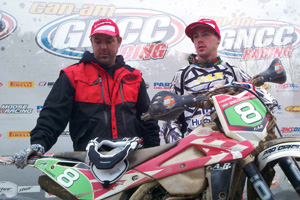 Round #3 of the Grand National Cross County series was a wet one as it rained all through the night and into the start of the Steele Creek GNCC, but that didn't stop Fred Andrews Racing/Team Husqvarna's Jason Thomas. Not only did Thomas top the X2 class, but he spent much of the day running as high as 3rd overall on his way to a dominating victory in the North Carolina woods. Meanwhile out in the California desert, Nick Burson continued to tune up for the title defense of his 5th U.S. Desert Racing #1 plate by winning the Dirt Digger's D37 Desert Scrambles.


A top five start enabled Thomas to keep his TXC250 relatively clean and his vision clear. "What water? My Husky worked good today," said the elated FAR Team Husqvarna rider. "I just put my head down and pushed all day! I am so happy to have it all come together today." Not only did Thomas trounce the XC2 class competitors, he floated by all but five riders in the big bore XC1 class for a dominating day at the Steele Creek GNCC.


Speaking of the open class bikes, Flying Finn Simo Kirssi had his best race of the XC1 season so far with a solid 6th in class, 7th overall, finishing just behind XC2 winner Thomas. "I trained in the roots this week and got a good feel for them," said Simo. "My TE310 worked perfectly for these conditions... I am happy with the results," said the reigning German and European Cross Country Champion.


"The track in the North Carolina mountains was littered with water crossings, plenty of roots and rocks, so all the FAR Husqvarna riders did some extra suspension testing this week," explained FAR boss Fred Andrews. "They were ready for this event! Simo put in his best ride of the season and I can't say enough about how well Jason is doing."


Husqvarna/FAR's other XC2 racer Morgan Moss had a tougher day in the wet, but still managed to work his way back into the top 10. Morgan got off to a bad start, battling with the slick conditions. He had worked his way up to 3rd place by the 4th lap, before getting cross-rutted and pitched into the trees! "I felt like I was going fast today," said the unlucky Moss. "I had gotten into 3rd and was pushing forward before I crashed hard! I lost the rear brake pedal and crashed four more times on the steep down hills trying to stop at the bottom. My results were not good, but I am riding good."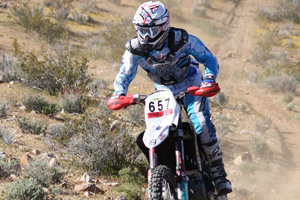 Desert master Nick Burson was also riding well, whipping up on the racers out West at the AMA District 37 Dirt Diggers Desert Scrambles. "I decided to race at the last minute just to get some practice on the bike and to get ready for the USDR race next weekend," noted Nick. "The rain had hit the Red Mountain area during the week, so I knew the dirt was going to be great and couldn't resist the epic riding conditions!"


Burson bagged the start on his TXC449 and lead for the first 30 miles. "When I came to the last road crossing, they stopped me by mistake for some reason and Colton Sanders went by me. I tucked in behind him for a few miles... it was so much easier to ride behind someone than to break the trail," said Nick. "I made the pass for the lead at the end of the first loop and decided it was time to break away. I started pushing really hard and opened up a 30 second gap in the pits. I knew the second loop would be easier because I knew where I was going, so I rode smooth and consistent to the finish and won by a few minutes. I had a great time and the Dirt Diggers did a great job all weekend."


"Talk about Ride More... we may just have to change the Husky marketing campaign to Win More! It is great to see Husqvarna winning in both the woods and out West in the desert," says Husqvarna's National Marketing Manager Corey Eastman. "I can always think of $12 million good reasons to 'Ride More' in 2011," says Eastman in reference to the company's Ride More Contingency campaign for this season.


After his class win and 6th overall on the day, Thomas now leads the GNCC championship points standings. Morgan Moss moves up to 9th in the XC2 Class and Simo sits in 11th in the XC1 standings. Despite a tough weekend, Mandi Mastin is still in 7th overall in the GNCC Women's championship after winning the first race of the season.

Next GNCC Race: April 9-10, 2011 - The Big Buck GNCC, Union, SC