Reed Takes Over Monster Energy Supercross Points Standings As The Championship Heads To Cowboys Stadium
Chaparral Motorsports
|
March 29, 2011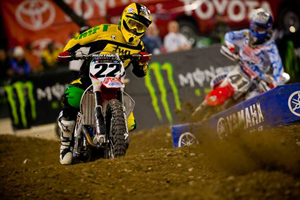 In a season filled with unpredictable outcomes, TwoTwo Motorsports/Bel-Ray Racing's Chad Reed, of Tampa, Fla., moved into the Monster Energy AMA Supercross, an FIM World Championship, points lead heading into Cowboys Stadium this Saturday night after finishing second in Toronto last weekend. As Reed moved into the points lead, Rockstar/Makita/Suzuki's Ryan Dungey, the defending Supercross class champion, earned his first win of the season and secured third place in the points standings, eight points behind Reed. While much attention is aid to the hotly contested Supercross class points race, the Eastern Regional Supercross Lites class is providing its share of parity with Monster Energy/Pro Circuit/Kawasaki's Dean Wilson winning his second race of the season last weekend in Toronto.


Media day will be held Thursday, March 31 from Noon - 2:00 p.m. in the South Club Room at Cowboy Stadium. Riders in attendance will be available for interviews and will ride the track for the media.


Ryan Villopoto, who rides for the Monster Energy Kawasaki team, came into Toronto with the Supercross class points lead. After colliding with Stewart on the first turn and later in the race, and pulling off the track to attend to a matter with the bike, Villopoto finished ninth and now sits in second place, three points behind Reed, a former two-time Supercross class champion.


As the Supercross class main event got underway, Dungey took an early lead on lap one, trailed by Reed and American Honda's Trey Canard. Dungey held off a pestering Reed for all 20 laps to register his first victory of the season, which marked the seventh Supercross class win of his career.


"It's been a tough one (this season) and it feels great to pull (a win) off," said Dungey. "Everyone goes through this at some point because it's a tough road. I got a great start tonight which was huge. The track was really tough and you had to watch the mistakes."


Reed followed Dungey through the finish line to lock in his fourth second place finish this season, with Canard rounding out the podium in third.


"That's the positive from tonight," said Reed, who claimed the points lead after Villopoto's misfortune. "I have to just carry on. Ryan (Dungey) road a great race, he was faster in the whoops and turns. It took everything I had to pressure him into making a mistake.


Earlier in the evening, San Manuel Yamaha's James Stewart posted the fastest lap time of 51.81 seconds in qualifying and won his heat race. As the gates dropped for the main, Stewart once again ran into trouble on the first turn, colliding with several riders, including ex-points leader Villopoto, who he also collided with later in the race. This misfortune left him sitting in seventh place, nearly 20 seconds from the leader.


Unable to move in on Dungey, Stewart finished fourth and has lost significant ground in the points standings where he now sits in fourth place with 216 points.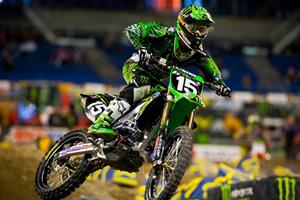 With only three races left in the Supercross Lites Eastern Regional Championship, a much needed win for Wilson last weekend in front of his fellow homeland bumped him into second place where he now sits 16 points behind GEICO Honda's Justin Barcia.


"The track was really tricky tonight," said Wilson. "I didn't get the greatest of starts but I kept pushing forward. It was all I could do. (This win) means a lot to me. We still have three races to go and I'm still far back in the points, but I'll try my (best)."


Barcia entered turn one of the main trailing Nuclear Cowboyz® Holeshot victor and teammate Blake Wharton. Barcia quickly passed Wharton and moved on to lead eight of the remaining seven laps. On lap 9, Wilson honed in on Barcia's lead and passed him through the whoops and went on to finish out the race in front, with Barcia and Wharton finishing second and third, respectively.


Last year at the inaugural Monster Energy Supercross race at Cowboys Stadium, Dungey won his fourth Supercross class main event. In the Eastern Regional Supercross Lites Championship, Blake Bagget won the main event, marking the first win of his career.


Monster Energy Supercross has a storied history in the Dallas-Fort Worth area with the first-ever supercross race held in Dallas on March 1, 1975. From 1983-2008, Texas Stadium hosted 26 consecutive Monster Energy Supercross races and is regarded as one of the sport's most historical cities having hosted.


In 2008 Reed became the first rider in history to earn four wins in Dallas. Former Supercross class champion Ricky Johnson is second on the all-time win list in Dallas with three. Supercross Lites racing began in Dallas on May 4, 1985 where Suzuki rider Bobby Moore won. Villopoto, Grant Langston and Jeremy McGrath are the only riders to win Dallas twice in the Lites class.

Past Supercross Class Winners in Dallas

March 20, 2010: Ryan Dungey

April 5, 2008: Chad Reed

March 31, 2007: James Stewart

March 22, 2006: Chad Reed

April 2, 2005: James Stewart

April 17, 2004: Chad Reed

April 12, 2003: Chad Reed

April 20, 2002: Ricky Carmichael

April 21, 2001: Ricky Carmichael

April 08, 2000: Kevin Windham

February 27, 1999: Kevin Windham

April 25, 1998: Ezra Lusk

April 26, 1997: Jeff Emig

March 23, 1996: Jeremy McGrath

April 29, 1995: Doug Henry

April 23, 1994: Mike LaRocco

March 28, 1993: Jeremy McGrath

May 30, 1992: Damon Bradshaw

April 27, 1991: Damon Bradshaw

April 07, 1990: Jean-Michel Bayle

April 01, 1989: Jeff Ward

April 16, 1988: Rick Johnson

April 04, 1987: Rick Johnson

April 26, 1986: David Bailey

May 04, 1985: Rick Johnson

April 14, 1984: Johnny O' Mara

April 16, 1983: Mike Bell

March 26, 1977: Bob Hannah

March 19, 1976: Jim Ellis

February 28, 1975: Jim Ellis

March 01, 1975(b): Steve Stackable

Past Supercross Lites Class Winners in Dallas

March 20, 2010: Blake Bagget

April 5, 2008: Ryan Villopoto

March 31, 2007: Ben Townley

March 22, 2006: Ryan Villopoto

April 2, 2005: Grant Langston

April 17, 2004: Ivan Tedesco

April 12, 2003: James Stewart Jr.

April 20, 2002: Travis Preston

April 21, 2001: Grant Langston

April 08, 2000: Greg Schnell

February 27, 1999: Nathan Ramsey

April 25, 1998: John Dowd

April 26, 1997: Kevin Windham

March 23, 1996: Mickael Pichon

April 29, 1995: Damon Huffman

April 23, 1994: Jimmy Button

March 28, 1993: Doug Henry

May 30, 1992: Jeremy McGrath

April 27, 1991: Jeremy McGrath

April 07, 1990: Denny Stephenson

April 01, 1989: Mike LaRocco

April 16, 1988: Ty Davis

April 04, 1987: Kyle Lewis

April 26, 1986: Keith Turpin

May 04, 1985: Bobby Moore