Brown Lands On Podium At Lake Havasu WORCS
Chaparral Motorsports
|
March 28, 2011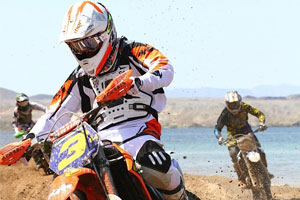 Factory FMF/KTM rider Mike Brown landed on the podium at the third round of the WORCS held in Lake Havasu, AZ after earning 5-3 podium results from the two-moto format weekend.


Both Brown and his teammate, the reigning WORCS Champion Kurt Caselli, got off to a good start both days of racing. On Saturday, Caselli took the holeshot followed closely by Brown. The two riders led the beginning of the race before both suffered from arm pump near the halfway point. At the end of their hour long battle, Caselli would come in 4th and Brown earned 5th in the first moto.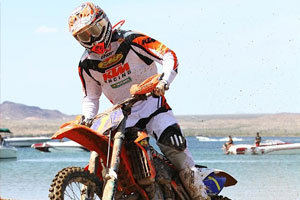 Determined to improve upon their results, the FMF/KTM riders again put themselves in a good starting position within the top three off the start of Sunday's moto. This time, Brown and Caselli stayed closer to the two lead bikes of Taylor Robert and Bobby Garrison. Brown and Caselli remained even closer to each other. The two teammates battled the entire hour long race with Brown eventually earning the final podium spot taking a 3rd overall for the day while Caselli matched his first moto performance with a 4th overall.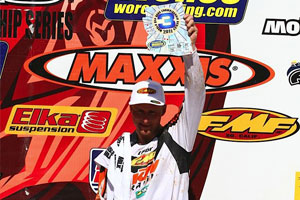 Brown's 5-3 moto results earned him 3rd overall for the race while Caselli's 4-4 placement earned him 4th overall at the Lake Havasu round.


Now three rounds into the series, Caselli sits 3rd overall in the point standings while Brown is currently ranked 5th.


Next Round: Round 4 - April 15-16, 2011 - Anza, CA

Overall Results

1) Taylor Robert

2) Bobby Garrison

3) Mike Brown

4) Kurt Caselli

5) Kyle Summers

6) Justin Soule

7) Robby Bell

8) Colton Udall

9) Ryan Abbatoye

10) Gary Sutherlin