MotoGP To Release Japan T-shirt For Charity
Chaparral Motorsports
|
March 25, 2011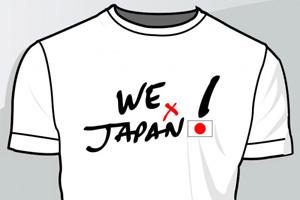 Many pieces of motorcycle apparel are designed to make a rider look cool while they're on the road - but this one is for a good cause.


MotoGP has released a new t-shirt featuring the signatures of all 17 riders lining up for races this year. The front of the shirt says "We are for Japan!" with the Japanese flag taking the place of the dot on the exclamation point. The back features the riders' signatures.


The shirt is available in a variety of sizes and will be priced at €20. All proceeds from the sale of the apparel will go to a humanitarian organization helping with the relief efforts in Japan. The plan is to sell the shirts at MotoGP events and online at the official website.


When MotoGP returns to the country on October 2nd for the Japan Grand Prix, the company will present all the proceeds collected from the initiative to the charity. The event is expected to be unaffected by the earthquake.


"We must give our maximum support to Japan at a moment such as this," said Jorge Lorenzo. "Japan is already a strong country that has always demonstrated its ability to overcome adversity. A strong embrace to all Japanese people and fans of motorcycling who live there."