KTM Announces Two New KTM Adventure Rider Rallies
Chaparral Motorsports
|
March 24, 2011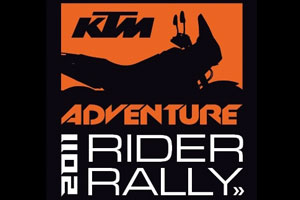 Make plans to join KTM staff and enthusiasts for the 8th Annual KTM Adventure Rider Rally offered in two locations for 2011. The first KTM Adventure Rider Rally will be held in picturesque Mill Hall, Pennsylvania on June 3-5, 2011. A second opportunity to join the fun will be given on September 16-18, 2011 when the rally moves to scenic Lake Tahoe, Nevada.

For the past seven years, KTM has hosted its rally in multiple locations switching from east to west coast events. This year in hopes of finding locations that satisfy riders nationally KTM has chosen both an east and west coast location.

These events provide riders of all skill levels an opportunity to ride with and learn from adventurers from all over the world. The KTM Adventure Rider Rally is designed for KTM 640, 690, 950 and 990 Adventure and Enduro owners but is open to all brands of street legal motorcycles.

The KTM Adventure Rider Rally is entering its eighth year as the only national festival for KTM owners and enthusiasts. This year's rally offers unbelievable adventure riding opportunities. The Mill Hall Rally will run in conjunction with the 21st Annual Durty Dabbers KTM/AMA National Dual Sport Trail Riding Series event. Registration for the KTM Adventure Rider Rally automatically registers riders for the KTM/AMA National Dual Sport Trail Riding Series ride. The Tahoe event begins in the heart of Lake Tahoe and covers terrain around and above the beautiful lake.

Participants will learn from KTM experts as they cover a technical overview of the Adventure in between jam-packed days of dual-sport riding. In addition, KTM will host free demo rides to all participants aboard the KTM street line of motorcycles. Select meals are included throughout the three-day event. Please see the registration form for more details. Both events include appearances from KTM professional athletes as well as Saturday awards night, games and more.

Clear your schedule and pre-register to receive a reduced rate at $125 per person and receive a free event T-shirt. This price does not include bike or lodging. KTM has reserved group rates at select hotels in the event areas. More info on the group rates and host hotels can be found on the event registration sheet.

For more information on the KTM Adventure Rider Rally please call (951) 600-8007 or click here. Get your entry in now!