Caselli Wins Melba Hare & Hound
Chaparral Motorsports
|
March 22, 2011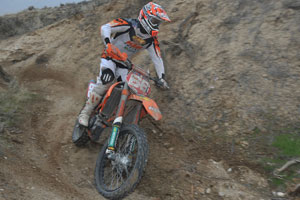 FMF/KTM rider Kurt Caselli earned his third win of the season at the fourth round of the AMA National Hare & Hound Series held in Melba, ID.


Caselli grabbed the holeshot and led early on before getting passed by a few riders around the five mile mark. The top four consisted of Caselli, David Pearson, David Argubright and Destry Abbott as they began the first of two loops. The four riders remained close throughout the first loop swapping the lead position numerous times.


"It was easy to stay close because there was no dust on the course so we could keep track of the lead rider as we raced," remarked Caselli. "It also made it difficult though, because we couldn't break away as easy if we did get in the lead."


As the riders moved on to the second loop, Caselli was sitting in 2nd position behind David Pearson. As they proceeded down the course they came to the backside of a mountain that had a small waterfall coming off of it where the snow had melted. Caselli tried to jump off of one slippery rock face to make a pass on Pearson but did not see another rock below where he had a hard landing. The impact was so strong it sent Caselli over the bars and did some cosmetic damage to his KTM machine. He eventually remounted in 3rd place behind Pearson and Argubright. Halfway through the second loop Pearson also crashed and handed the lead to Argubright. Caselli recovered and continued to close the gap and was able to make a pass on Argubright for the lead with only five miles to go.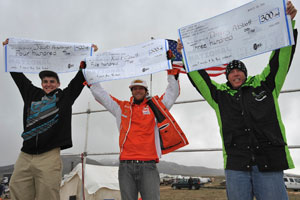 Once in the lead, Caselli pulled out to a 20 second victory. This win marked the third win of the season for Caselli who now holds the series points lead heading to the fifth round.

Overall Results

1) Kurt Caselli

2) Jacob Argubright

3) Destry Abbott

4) David Pearson

5) Robert Underwood

6) Justin Morrow

7) Levi Hutchings

8) Lane Buchert

9) Tuffy Pearson


Next Event - Jericho, UT - April 9, 2011