2011 Forest Hill Rekluse/AMA National Enduro Series Results
Chaparral Motorsports
|
March 22, 2011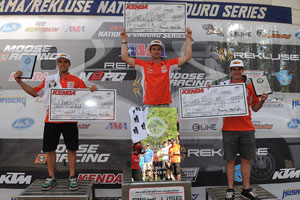 Full FMF/KTM Podium at Cajun Enduro
The Factory FMF/KTM Racing Team had their best weekend so far this season when all three team riders landed on the podium at the second round of the Rekluse/AMA National Enduro Series in Forest Hill, LA.

FMF/KTM rider and reigning National Enduro Champion, Charlie Mullins, won the first three tests by a slim margin over teammate Russell Bobbitt. Also remaining close was the third member of the team, Cory Buttrick.

The three teammates continued to turn in impressive times throughout the six tests, pulling away from the other riders. In the final three tests, Bobbitt took his turn at the front of the pack winning the fourth and fifth tests. At the start of the sixth test he and Mullins were only one second apart.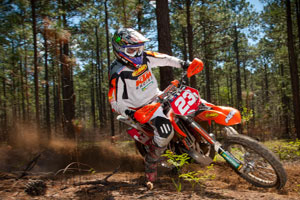 Unfortunately, Mullins suffered a crash in that section and allowed Bobbitt to run away to an easy win. Mullins finish time earned him 2nd overall while Buttrick would round out the podium in 3rd.

In addition, to the three KTM riders on the podium there were a total of six KTM's in the top ten, marking a great day for the FMF/KTM Team and KTM brand.

"We are very excited with the teams finish today. We know we have the best riders and they are all capable of being on the podium each weekend and they proved that today," remarked FMF/KTM Team Manager Antti Kallonen.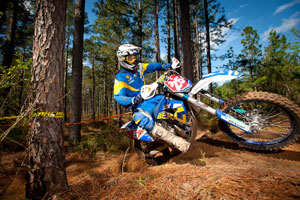 Fahringer Earns 4th at Cajun National Enduro

Husaberg Factory rider Nick Fahringer missed the podium by one spot at the second round of the Rekluse/AMA National Enduro Series when he finished 4th overall at the Cajun Enduro in Forest Hill, LA.

Fahringer's day got off to a horrible start when he and his Husaberg teammate, Mike Lafferty, took the wrong trail during the first timed test and finished over a minute behind the other riders. "I was feeling really down after we heard the times of the first test. We didn't realize we had gone the wrong way and I was nervous I was really that far off the pace after feeling like I put in a pretty good time," commented Fahringer. It was later determined that many riders took the wrong path and the first test results were thrown out of the final tally.

The 85-mile course was made up of hard soil with loose dirt on the top that made the course very slippery. "There were a couple sections where I just slid out because the course was so slick and I couldn't control it. Luckily, I was able to quickly recover and never lost too much time," stated Fahringer.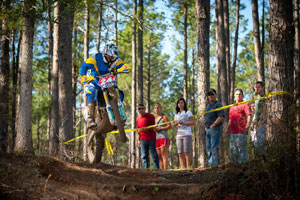 Throughout the majority of the tests, Fahringer turned the fourth fastest times and finished in that position, improving upon his first round result. Unfortunately, Lafferty didn't have a race he wanted to remember. "I just felt off all day and wasn't able to put in a good test. I had a few crashes and couldn't get into a rhythm. I am going to put this race behind me and look forward to getting back at the podium at the next round," remarked Lafferty.

Overall Results

1) Russell Bobbitt

2) Charlie Mullins

3) Cory Buttrick

4) Nick Fahringer

5) Thad Duvall

6) Brad Bakken

7) Mike Lafferty

8) Andrew Delong

9) Shane Hufford

10) Cole Kirkpatrick


Next Event: Kalgary, TX - April 3, 2011