Team Husqvarna Wins Again, And Again
Chaparral Motorsports
|
March 21, 2011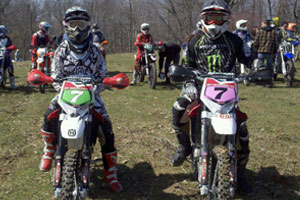 There may have been a break in the GNCC series action, but that didn't stop Fred Andrews Racing/Team Husqvarna's winning ways. Both Jason Thomas and FAR Boss Fred Andrews' father Phil made it to the top of the podium at the Competition Riders of America Harescramble in Hubbard, Ohio. Meanwhile Mandi Mastin continued her winning ways on the AMA National Enduro circuit.


"I wanted to try a new shock setting for next week's GNCC," says Jason Thomas. "Of course the best way to test it is to race on it!" The settings seem to be dialed in on his TXC250 as Thomas took an easy win in the CRA race. "I got a good start in second, and by the time we hit the woods, I had moved into the lead."


However it wasn't all smooth sailing as the course was a never-ending series of mudholes. "I did have a small get-off that allowed Scott Watkins to get past me," Jason admits. "After that I tried to pick a good line through the mudholes and lay down some consistent lap times. Once I got back by Watkins, I was able to cruise on my Husky to a pretty easy win."


"Jason made it look easy," says former GNCC champ Fred Andrews. "It was great to see both Jason and my father win this weekend." Like Thomas, Phil Andrews was also mounted on a TXC250 in the Masters Class for the CRA race. "We dialed in the shock settings and should be 'set' for next week's Steele Creek GNCC," Andrews adds.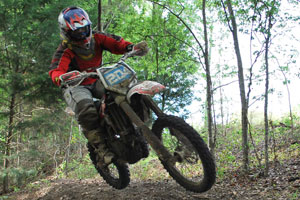 Women's champ Mandi Mastin continues to enjoy her new Hall's Husqvarna TXC250, winning again at the second round of the National Enduro series in Forest Hill, Louisiana. "The weather was great, with sunny skies and temperatures in the 80s," says the multi-time women's national enduro champ. "We couldn't have asked for better terrain for this weekend's race... the dirt was just moist enough so that there was no dust and perfect traction!"


Although this was only her third race on the Husky, Mandi says she likes the new bike. "The Husqvarna TXC250 has proven that it is a fun, enjoyable bike to ride just about anywhere. I don't think that I have ever enjoyed riding/racing a motorcycle as much as I do the TXC250! I rode really well and felt really good on the bike as I finished 1st place in the Women's Class. Can't wait for next weekend when I head back south to North Carolina for the third round of the GNCC series."


"Whether it is grassroots racing at regional races such as the CRA Harescramble in Ohio or a National Enduro in Louisiana, it is great to see Husky is back to its winning ways once again," says Husqvarna's National Marketing Manager Corey Eastman. "We want everyone to Ride More in 2011." To help reinforce this "Ride More" message, Husqvarna is offering $12 million in contingency rewards at more than 160 racing events from coast to coast this season.


Next GNCC Race: March 26-27, 2011 - The Steele Creek GNCC, Morganton, NC