2011 Jacksonville AMA Supercross Results
Chaparral Motorsports
|
March 21, 2011
2011 AMA / FIM World Championship Supercross series round 11, Jacksonville, FL race results/recap:

Dungey 3rd at Jacksonville SX

Team Rockstar Makita Suzuki's Ryan Dungey has closed the lead on the AMA/FIM Supercross Championship after racing to third place in Saturday night's Jacksonville 11th round in Florida.

The defending Champion is now third overall on his RM-Z450, 18 points behind series leader Ryan Villopoto (Kawasaki) with six rounds still to run.

Dungey rode determined in practice, grabbing the second fastest time in timed qualifying. After a good start in his heat race, his RM-Z powered him to the front for a convincing win. After a decent start in the Main, Dungey was able to work his way up to third position by the end of the first lap. He rode tenaciously but couldn't quite catch the leaders and crossed the line, claiming a podium finish.


"All in all, today was a good day," said Dungey. "My Rockstar Makita Suzuki felt great, practice was good, and the bike settled in really well too. Going into the night race, I got a good start in my heat race and got the heat win. In the Main, I got caught up in the pack a little bit but was able to work up to third. I was trying to gain on the leaders, but I just couldn't make up enough time and then made a pretty big mistake on my part. Overall, I think it was a great night and big step in the right direction. I'm looking forward to the next round in Canada. It's a big stadium and the track layout is pretty amazing there. It will be good to go to another country as well. Hopefully we can get good starts and put ourselves in a good position there."

Team mate Brett Metcalfe sat out the race to continue his recovery from recent crashes in Atlanta and Daytona. Metcalfe is hopeful to return to action at next week's event in Toronto.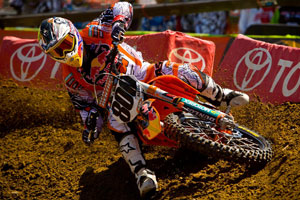 Short Finishes 5th and Alessi 7th at Jacksonville Supercross

Factory Red Bull/KTM riders Andrew Short and Mike Alessi put in impressive rides at the 11th round of the AMA Supercross Series held in Jacksonville, FL with a 5th place performance by Short and a 7th place result for Alessi.


Both Red Bull/KTM riders had excellent heat races with both KTM 350 SX-F machines taking the holeshot in their heats. The #800 machine of Mike Alessi was up first in heat number one. He nailed the holeshot and took the early lead. He continued to lead for the first half of the race before he was passed on lap five. "I began to get arm pump on the fifth lap and fell off the pace a little bit," remarked Alessi. "I was still happy to run up front for the time that I did and to finish 5th overall in the heat."


Andrew Short followed Alessi's start strategy and grabbed the holeshot in his heat. He led James Stewart briefly on the first lap before dropping to 2nd position. Short and Reed battled on the next two laps before Reed made the pass and Short settled into 3rd. Once in 3rd, Short hung tight to the spot and finished in that position to take a nice qualifying spot into the main event.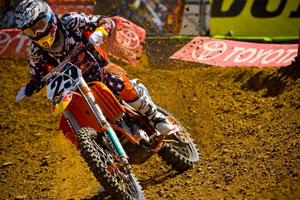 In the main event, Alessi duplicated his heat race start and pulled the holeshot around the first corner. Short was a few spots back in 6th position. On the first lap, Alessi and Davi Millsaps came together and allowed Short to pass into 4th. Short remained in 4th through the first half of the race before Kevin Windham made a pass on the tenth lap. Short was able to ride a consistent race through the remaining laps to finish 5th overall marking his sixth top five finish this season. Meanwhile, Alessi spent the majority of the race in 8th position before closing in on Austin Stroupe with a few laps remaining. With one lap to go, Alessi was all over Stroupe. On the final corner he cut underneath Stroupe and made the pass just in time to cross the finish. That pass moved Alessi up to 7th for the night marking his season best finish.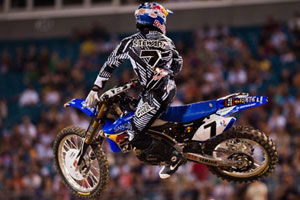 No home glory for Stewart at Jacksonville

After winning his heat race by almost thirteen seconds San Manel Yamaha's James Stewart was unable to toast a home victory at the Jacksonville Municipal Stadium on Saturday night. An incident through the rhythm section after the first turn in the Main Event left the former champion unable to continue and nursing a sore back.


Round eleven of seventeen in the AMA Supercross series returned to Florida and although Stewart was in good form during the practice sessions across a new layout, a tight entry to the series of jumps after the opening curve saw the 25 year old fall in what was a scary accident.


Initially it was feared that former champion had dislocated his hip but a message sent from his team after a medical check indicated that he hopes to be in contention for next week's event in Canada. "I was really hoping to pull this one out," Stewart said. "It was my home state, I'm familiar with the tracks, all my fans were cheering me on and it's just really disappointing. It's all about Toronto and the rest of the season now."


It was left to Austin Stroupe to record ninth position and be the highest ranked YZ450F rider. Davi Millsaps crashed twice and also failed to finish as JGR Yamaha team-mate Justin Brayton was unlucky to miss the Main after incident in the Heat and LCQ caused him to miss the cut.


Ryan Sipes made the East Coast Lites podium for the second week in succession after his first career victory at Indianapolis. The YZ250F rider is now second in the series. "It's nice that I've been consistent this year," he said "but since I tasted victory last weekend, getting third is a lot harder to be happy about, if I'm being honest with you!"


Stewart has slipped to fourth in the standings, 23 points behind the leader. Brayton and Millsaps remain eighth and ninth. Round twelve sees the AMA series leave North America for the first, and only, time as the Rogers Centre in Toronto represents the next stop on the calendar.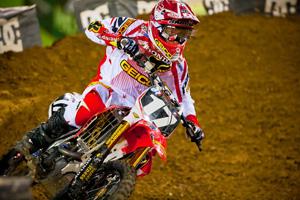 Barcia Builds on Lead After Baggett Goes Down

Justin Barcia was able to increase his lead in the AMA Supercross Lites East Championship this weekend after taking advantage of some bad luck from second-place rider Blake Baggett.


Baggett only trailed Barcia by six points in the overall standings heading into the Jacksonville race and was looking to insert himself into the championship conversation. However, Baggett wasn't even able to get onto the track. The rider went down in his heat, forcing him into a qualifying race where he crashed early and couldn't restart his bike. Strangely, Baggett's fellow Kawasaki rider Ryan Villopoto suffered the same fate in Jacksonville, meaning Team Green had to watch from the sidelines.


Then, just like his fellow Honda rider Trey Canard took advantage in the Premier class, Justin Barcia wasted no time cementing his position at the top of the points standings. The rider put in a dominant performance and all but assured that he'd end up walking away with the East title with just a few races to go.


It wasn't a complete loss for Kawasaki, as Dean Wilson was able to take second, putting him 19 points behind Barcia. Ryan Sipes took third and now trails by just 17 points, but both will need a bit of luck to be able to catch the Honda rider.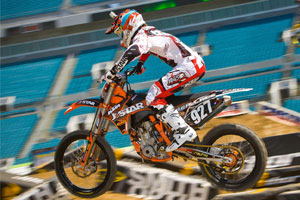 Larsen Earns 5th at Jacksonville Supercross

JDR/J-Star/KTM rider PJ Larsen put together a top five performance at the fifth round of the AMA East Lites Supercross Series in Jacksonville, FL where he earned 5th overall for the night.


Larsen's day went well right from the start of the night show. In his heat, Larsen got off to a great start within the top three. He stuck close to Matt Lemoine who was in 2nd position behind Dean Wilson. As they neared the halfway point, Larsen was all over the rear wheel of Lemoine. He continued to pressure Lemoine through the six lap heat eventually crossing the line in 3rd position to earn a great gate pick for the main event.


"I had a good heat race. I was able to grab a decent start and put myself up front early. I would have liked to pick up one more spot but it was safer to finish 3rd and get a spot on the main event gate rather than make a last second attempt and risking a crash to pick up 2nd in the heat," remarked Larsen.


In the Supercross class, Larsen's teammate, Tye Simmonds, suffered a horrible crash in his heat in the rhythm section right after the start straight. Simmonds did not finish the race and returned to the truck for further evaluation. He was able to get his bike prepped and gather some strength to get back to the track for the LCQ. Unfortunately, he suffered a terrible start and was only able to make his way up to 10th by the end of the LCQ.


In the main event, Larsen started about 15th. He was able to avoid a first lap pile up and moved into the top ten after the first lap. By lap two he had moved up to 8th. On the third lap he was able to move up one more position after Blake Wharton crashed in the whoops. The next lap he passed Hunter Hewitt to move up to 6th. He spent the remainder of the race reeling in Darryn Durham. As the race wore on, Larsen increased his lap times and was running times approximately one second a lap faster than Durham. Larsen made the pass for 5th position on the second to last lap and matched his best finish so far this season.


Supercross Results

1) Trey Canard

2) Chad Reed

3) Ryan Dungey

4) Kevin Windham

5) Andrew Short

6) Ivan Tedesco

7) Mike Alessi

8) Austin Stroupe

9) Nicholas Wey

10) Chris Blose

11) Fabien Izoird

12) Michael Byrne

13) Jason Thomas

14) Jarred Jet Browne

15) Cole Seely

16) Kyle Partridge

17) David D Millsaps

18) James Stewart

19) Matthew Goerke

20) Weston Peick

Supercross Lites Results

1) Justin Barcia

2) Dean Wilson

3) Ryan Sipes

4) Matthew Lemoine

5) PJ Larson

6) Darryn Durham

7) Les Smith

8) Taylor Futrell

9) Hunter Hewitt

10) Justin Sipes

11) Lance Vincent

12) AJ Catanzaro

13) Kyle Keylon

14) Sean Lipanovich

15) Bradley Ripple

16) Levi Kilbarger

17) Blake Wharton

18) Christopher Gosselaar

19) Gannon Audette

20) Malcom Stewart

Overall Supercross Point Standings

1) Ryan Villopoto - 221

2) Chad Reed - 214

3) Ryan Dungey - 203

4) James Stewart - 198

5) Trey Canard - 194

6) Andrew Short - 145

7) Kevin Windham - 121

8) Justin Brayton - 121

9) David D Millsaps - 118

10) Brett Metcalfe - 107

Overall Supercross Lites Point Standings

1) Justin Barcia - 116

2) Ryan Sipes - 99

3) Dean Wilson - 97

4) Blake Bagget - 85

5) Blake Wharton - 69

6) Mathew Lemoine - 69

7) PJ Larsen - 62

8) Malcolm Stewart - 53

9) Jason Anderson - 44

10) Lance Vincent - 43