Stoner Dominates First Qatar Practice
Chaparral Motorsports
|
March 17, 2011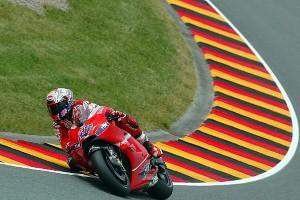 Jorge Lorenzo may be the defending MotoGP champ, but Casey Stoner has shown that he's ready to ride this season.


Stoner has been the talk of the pre-season, dominating most of the tests that have been held up to this point. So it should come as no surprise that Stoner was once again on top during the first official practice runs for Qatar.


What may surprise fans is just how much Stoner won by. The Australian native was more than half a second ahead of teammate Dani Pedrosa - which is essentially an eternity in MotoGP time. Both riders race for Repsol Honda, so it wasn't necessarily a difference in the two bikes, either.


According to Cycle News, Stoner was happy to continue his practice run success, although he was a bit slower than his previous time on the track on Monday.


"Yeah, I mean it's only session one, but we've picked up where we left off the last test more or less using the same set-up," he told the news source. "We tried a couple different things tonight. But yeah, in general the bike feels good. The track conditions are quite good, but a little bit too windy."


The first race of the 2011 MotoGP season will kick off Sunday afternoon in Qatar.