Team Husqvarna Survives 6 Hour Torture Test
Chaparral Motorsports
|
March 16, 2011
As the Fred Andrew's Husqvarna Team raged at the GNCC in Georgia, the boys on the West Coast Zip-Ty Racing Husqvarna Team took a well-deserved break from racing action. However Team Husqvarna was still in action this past weekend as the corporate crew stepped up for the annual Glen Helen Raceway 6 Hour Endurance Race.


There is certainly no lack of riding talent at Husqvarna's newly established Corona, California, HQ. Husky President Kris Odwarka has been shaking the cobwebs off of his riding skills after a long absence from off-road riding - but the skills acquired during a miss-spent youth working in dealerships and riding moto are quickly coming back. However, moving from the other side of the globe has its challenges and meant no 6 Hour for the Husky headman this time out. National Sales Manager Revelle Harrison is also an absolute terror at both moto and off-road events. However, Rev's busy travel schedule meant no race for him.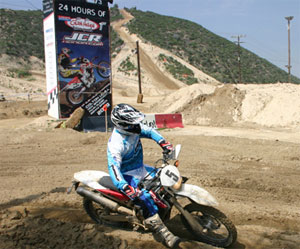 So who would carry the corporate torch for Team Husqvarna? Husky's hopes rested firmly on former Pro-Circuit Husqvarna phenom and current National After Sales Manager, Andy "The Original Bro Show" Jefferson! With that, the seeds were sown for a very amateur effort at the industry class for this year's GH 6 Hour torture test. With literally no better options available, National Marketing Manager Corey Eastman was drafted onto the team after a hiatus from racing. Eastman's big return to endurance racing was joined by Jay "Big Bro" Eastman who was returning after his last attempt at racing Glen Helen ended 15 seconds into last year WORCS race with a broken shoulder, seven cracked ribs and a very annoyed wife who found herself with a half-finished master bedroom remodel. Pit crew duties fell to a couple of Eastman kids, helping to keep the old guys on track.


Bike prep was minimal. A bone stock TE449 Husqvarna dual-purpose machine was pressed into action. Jefferson changed the oil, swapped the shock and fork springs to handle a team of such extreme substance and spooned on a fresh set of Dunlop knobbies. The race was on, turn signals, horn and all!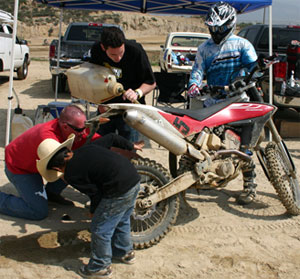 The Eastman strategy was obvious: Keep Andy Jefferson on the bike as long and as often as possible. The 9+ mile course was an absolute blast and a great combination of all that Glen Helen has to offer. From fast desert-type sections, tight single track, to an entertaining section of the Endurocross course, the TE449 performed flawlessly. Six hours later, the riders were all moving a bit slower, but the 449 was just as fast with turn signals and other street legal bits still intact - save for the handguard that Corey snapped off when his stubby legs became too short to find the ground in one of the single track sections.


At the end of the day, the race was not about position or lap times, but good times. "It is about riding more, enjoying friends, family and fellow enthusiasts," says Eastman. "We all need to 'Ride More' in 2011." Through Andy's heroic stints in the saddle and despite Corey's valiant efforts to slow things down, Team Husky netted 3rd place in the industry class and created some great memories. "I doubt Ty will be calling and asking for us to fill in for Nick Burson, Jamie Lanza and Cory Graffunder anytime soon, but it was a blast to simply get out and ride!"


"Congratulations to our GNCC riders and we look forward to cheering on the Zip-Ty Racing Husqvarna team as they resume racing action next week," concludes Corey.


Next GNCC Race: March 26-27, 2011 - The Steele Creek GNCC, Morganton, NC

Next WORCS Race: March 25-27, 2011 - Crazy Horse Campgrounds, Lake Havasu City, AZ